Karides güveç: Prawn, mushroom and haloumi casserole
Chef Somer Sivrioğlu and co-author David Dale share a tasty Turkish casserole recipe from their forthcoming book, 'Anatolia'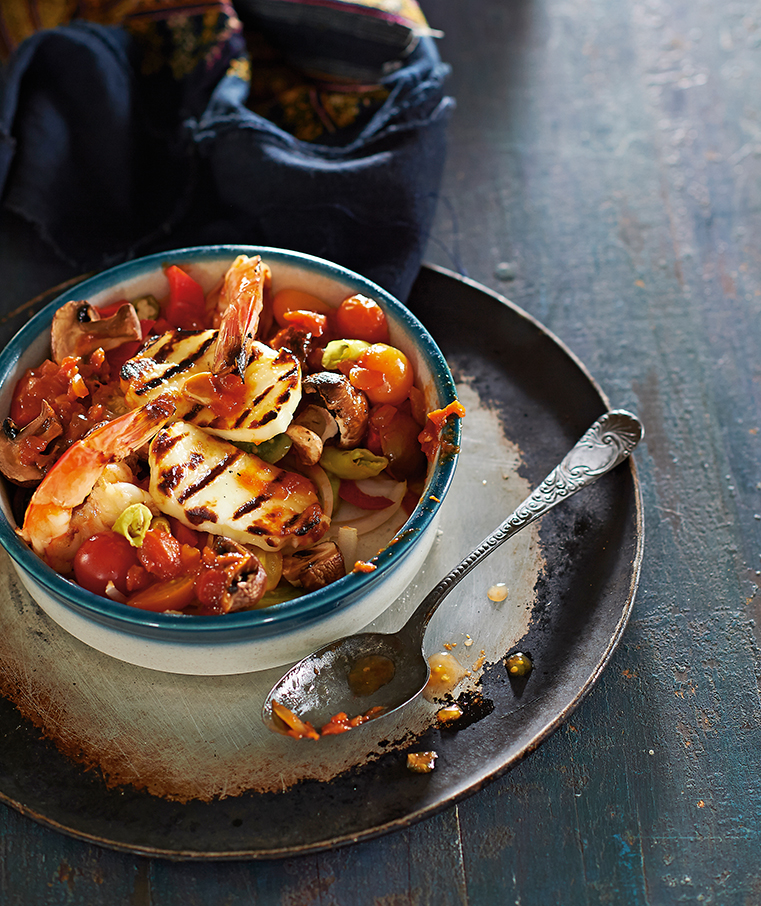 The word güveç (pronounced 'goo-wetch') means a clay pot in which traditional casseroles are made. The usual version of karides güveç, served in restaurants and meyhanes in Turkish coastal cities, uses small prawns or shrimps, but because I live in Australia, I have the luxury of easy access to prawns of significant size. Using bigger prawns also saves shelling time.
The mushrooms keep the casserole moist when it's cooking, and help prevent the prawns from drying out. You need only bake the güveç in the oven for long enough to let the haloumi melt, without overcooking the prawns.
Serves 4
Ingredients:
12 cherry tomatoes (multi-coloured, if possible)
1 long green chilli
2 green bullhorn peppers (or 1 green capsicum/pepper)
3 onions
3 garlic cloves
12 prawns
80ml vegetable oil, for frying
400g small mushrooms (such as Swiss brown or button)
200g haloumi
50g butter
1 tsp salt
1 tsp freshly ground black pepper
Method:
1. Halve the cherry tomatoes. Slit along the chilli and the bullhorn peppers and remove the stalks and seeds. Finely chop. Finely slice the onions. Finely chop the garlic.
2. Remove the heads from the prawns. The best way to do this is to straighten the body with one hand and with the other hand twist the head 90 degrees, gently pulling the head off so that the black thread along the spine comes away. Peel off the skin but leave the tail on. Preheat the oven to 180°C (350°F/Gas 4).
3. Heat half of the vegetable oil in a frying pan over medium heat. Add a drop of water to the oil. If it sizzles the oil is ready. Add the prawns and sear for 30 seconds on each side. Remove from the pan and set aside on a paper towel. Add the remaining oil to the pan, immediately add the onion and cook for 3 minutes. Add the garlic and sauté for 1 minute. Add the chilli and pepper and fry for 3 minutes. Halve the mushrooms. Toss them into the pan, add the salt and pepper and simmer for 3 minutes. Remove from the heat and stir in the halved cherry tomatoes.
4. Put three prawns in each of four ovenproof bowls. Divide the mushroom mixture between each bowl. Cut the haloumi into four slices. Place one slice in each bowl. Put a dollop of butter on each slice of haloumi. Bake for 7 minutes until the haloumi is melted and slightly burnt around the corners. Serve hot.
From Anatolia by Somer Sivrioğlu and David Dale (Murdoch Books, £30) out on 9 April
Photograph: Bree Hutchins