July Shelf Help: Q&A with Deborah Moggach
Alex Clark chats to author Deborah Moggach about her latest book, Heartbreak Hotel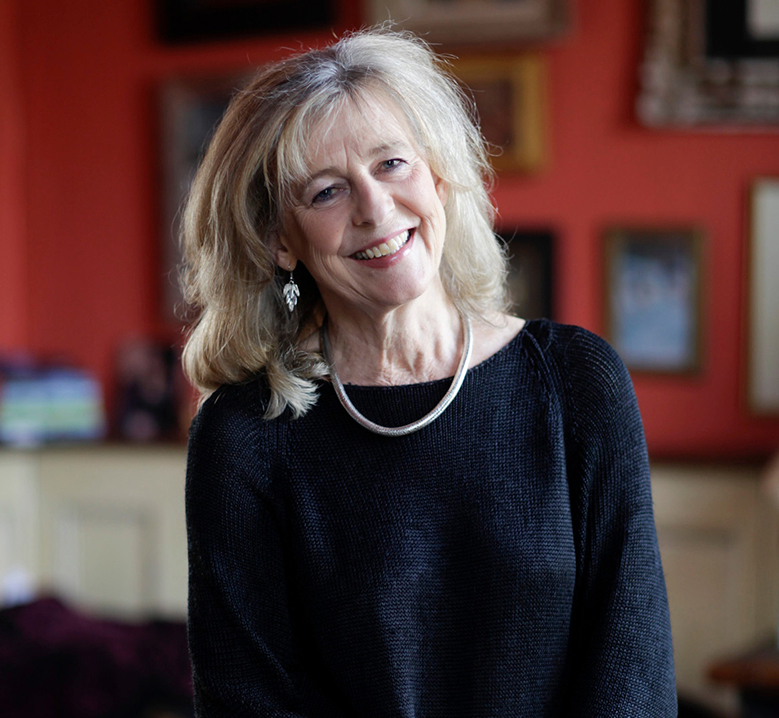 In Heartbreak Hotel, Buffy, who's a retired actor, inherits a B&B in the Welsh countryside, which involves many changes – not least a move from central London. You're a Londoner, aren't you? Have you ever contemplated leaving the big smoke?
Funnily enough, I'm just leaving London to live in Knockton, the fictional town in Heartbreak Hotel (in real life it's called Presteigne) – that's how much I like it. I hope to be there by July. It's a huge upheaval but I got married recently to the man who introduced me to the town, (because he lives there) so we're buying a house together. Fact following fiction…
Needless to say, things don't go quite according to Buffy's rather romantic plan. Is that gap between dreams and reality what fuels the novel
The gap between expectation and reality – well, that's one of the bases of fiction. If things turned out as we planned there would be no story. And it's also what makes us human – that we weave dreams. It's what separates us from the animals… as far as we know.
Tell us a bit about some of the characters he encounters in his great life change.
The main person Buffy meets is Voda, whose parents are old hippies and who was brought up in the hills amongst chanting and dope-smoke. I like to explore the casualties, or results, of the Sixties and Voda is a more optimistic picture of the hippies' progeny. Buffy also meets various old lags in the pub, and neighbours etc. But he mainly meets his guests, who arrive at his B&B. I had a lot of fun with those.
What drew you to create a lead who's an actor? Does the world of theatre have a special pull for you?
He's an actor because I love them. They have to live on their charm so no wonder I find them attractive. Also because he's been many characters in his life which have all become part of his DNA, and this makes him more complicated. We all have different personalities and possibilities within us, but actors develop these.
The idea of a 'heartbreak hotel' – a friendly place to which people might gravitate when things aren't going so well – is a beguiling one. Could it ever work? Would you like to run one?
I'd love to run one. It would be like his – none of those doilies or nylon sheets or Airwick smells. It would be a boisterous and welcoming old pile, with plenty to drink.
As a writer who's been on many book tours, you must have had your fair share of grim B&B experiences. Do any stand out?
See above – nylon sheets. Lavatories petticoated with lace. I once got food poisoning from some mushrooms and couldn't get my head into the loo of my B&B to be sick because of all the petticoats I had to rummage through, to get there. And everyone is so QUIET at breakfast.
You wrote about older generations with great success before in The Best Exotic Marigold Hotel. Do you think older characters are unfairly neglected by novelists?
More and more people are writing for older characters as we realise that life doesn't end at 65; there are whole new chapters ahead. That's party because we're living longer of course. And – see above – there's plenty to explore about the gap between expectation and reality. See also above – we're getting married again and venturing in all sorts of directions. So we need books to reflect this.
Our conception of life stages seems to be changing rapidly. For example, what we now regard as 'middle age' was once seen as the start of 'old age'. What impact does that have on how you tell people's stories?
We don't feel old, we don't look old. Well, WE think we don't. (I speak as a 65-year-old.)
You've written many different types of fiction – from romances to short stories to historical novels such as Tulip Fever. How does this kind of comic writing fit in? Is it something you gravitate to when you feel the need to write something cheering?
Actually I've never written a romance. But yes, my novels are all different – some are hard-hitting, some spare, some funnier than others, a couple are historical. Who wants to deliver to people's expectations? One should always surprise oneself. And certain stories demand certain sorts of writing.
Which writers make you laugh?
Many. I think all good novelists understand that in every situation, even the most tragic ones, unintentional humour or irony lurks. My mother, for instance, had terrible dementia but it was often extremely funny. Once she said 'There were two men in my bedroom last night. One was in the wardrobe and the other was under the bed. I've never believed in threesomes and I'm not going to start now'. THAT's the stuff of life and novels should reflect that.
What are you writing about at the moment?
I'm writing a rather ambitious novel set in Beijing, Texas, London and a fictitious African country. I've only been to two of those places so it's rather daunting but I'm winging it. If I believe in it I hope the readers will believe in it too. And after all, novels are about human beings rather than geography.
Photograph: Urszula Soltys