Is there a science to compatability?
Top psychologists are creating questionnaires for online dating agencies that promise to generate ideal partner profiles. We ask, is there really a science to compatibility? By Lorna V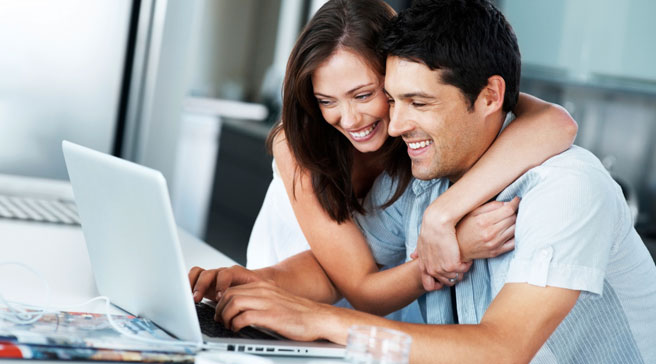 Michelle Givertz was 27 when she met her husband Marc at a party she went to with her sister. 'He made a terrible impression,' she says. 'He sidled up to us and said, "Well, how are you ladies doing?" I ran into him again some time later and he was flirtatious. I wasn't interested, but after I talked to him, he intrigued me. And I thought, "Oh, he is handsome."'
Chemistry took over and the two got together without anything long-term in mind, let alone marriage. 'Two years later, when he said he loved me and wanted to get married, I had to think about it,' says Givertz, who is a leading expert on relationships at California State University. She and Marc have now been married for 15 years. 'And I feel just as attracted to him as ever,' she says.
So what made them compatible? Why did the one who initially annoyed her become The One? Givertz knew that she wanted children, but that she didn't want to give up her academic career. 'I wanted a partner who was flexible,' she says. Marc was happy to be a stay-at-home father after the children were born, while she became the main earner. Had he not been amenable to that, she says, she wouldn't have married him.
A lot has happened in the world of love in the 17 years since the couple met – namely the internet. Givertz's experience is an example of how getting to know somebody organically can lead to love and marriage. With online dating sites promising ever more ingenious personality questionnaires and software to deliver perfectly compatible partners to members' inboxes, is there really a psychological blueprint for lasting love? Would Michelle and Marc have clicked online?
The problem with online dating, says Givertz, is that it's easy to overlook potential ideal mates. Even if she'd met Marc via a dating site, she might not have agreed to meet him again if he annoyed her the way he did at the party. 'We know from studies that exposure can lead to increased attraction,' she says. 'Online dating is a logical shopping list. But offline attraction can develop the more you see somebody.'
The top-notch scientists hired by dating agencies insist that – provided you choose the right site – you have a far greater chance of meeting The One this way. 'It's online introducing,' says Helen Fisher, anthropologist and chief scientific adviser at match.com. 'When you get a profile that fits your personality and what you want, it means you have to kiss fewer frogs,' she says. 'But the dating is exactly the same. You've got to get out there and get to know someone.'
Fisher, whose books include Why Him? Why Her? (Oneworld, £8.99), says that it's more natural for the human brain to want to know the full details about someone before wanting a relationship with them. 'People fool themselves that meeting someone in a bar is somehow more natural than meeting someone about whom you know some basic things,' she says. 'How is that even safe?'
The more we know about someone, the more our interest is aroused, so in that respect compatibility is easier to negotiate online than in the course of meeting a stranger late at night in a bar or club. Fisher attributes the continuing rise of couples meeting online (one in five relationships in the US) to this very fact, in particular for people over the age of 25. 'Bars are now for meeting up with friends,' she says. 'Then you go home, put on your PJs and look at profiles online.'
Most experts agree that, broadly speaking, similarities between two people increase compatibility (note that similar does not mean identical). Two people might be ideally matched on umpteen dimensions in cyberworld, but have no chemistry face to face. Professor Robin Dunbar, an evolutionary psychologist at Oxford University and author of The Science Of Love And Betrayal (Faber & Faber, £12.99), suggests that much of the interesting research on what makes people click has been based on friends rather than romantic partners.
'Social psychologists have identified six key elements for compatibility in friendships,' he says. 'These are:
speaking the same language and a similar background;
education level;
moral/political outlook;
hobbies/interests;
and a shared sense of humour.'
When it comes to fireworks between men and women, however, it is difficult to predict how far these basic rules of compatibility apply. Sometimes opposites attract, but we know they can just as easily repel.
Dr Gian Gonzaga, senior director of research and development at eHarmony – a global dating site that uses a member questionnaire based on 29 psychological aspects, from social style to emotional temperament and relationship skills – believes that it's a matter of degree. 'A very anxious person will be better off with someone who has experienced anxiety, even in just one area of their lives, because that person will be empathetic,' he says.
Gonzaga points out that people can have too rigid an idea about what qualities they're looking for in another person without ever having tried anything different. 'People often have a clear picture of what they want (such as being with a "morning person" or a non-smoker),' he says. 'But actually they are surprised that some of the things they think they want aren't so important because the person has other qualities, so they can overlook, say, one cigarette a day.'
Finding love and long-term commitment in the 21st century also comes with high expectations. 'Younger people use the term soulmate,' says William Doherty, professor of psychology and head of the marriage and family therapy programme at the University of Minnesota. 'But it's a big trap. Wanting this deep spiritual connection sets a very high bar. How much use is the soulmate going to be when the baby is crying with a dirty nappy?'
Doherty's advice is rooted in reality rather than rom-com world. Most experts agree that the more you know yourself, the better. For those looking for a new The One, post-divorce or failed long-term relationship, the key is what have you learned about yourself. 'People get divorced and think they married the wrong person,' says Doherty. 'Everyone is the right and wrong person, there is no totally right person.'
Doherty's advice on finding love that lasts comes down to how we manage conflict with our partner. It's our conflict style that has to be compatible. 'If someone runs from conflict and won't deal with it, that's a bad sign,' he says. 'Do they have a temper? Are they very critical? During the lovey-dovey stage they'll apologise, and there might be great sex afterwards, but notice whether the same things keep happening. These are all red flags. Couples need to be competent at handling conflict.'
The magic formula seems to be physical attraction plus compatibility plus chemistry. 'It's that click factor,' says Gonzaga. 'It's related to compatibility. But we know it's different. There is a better chance of chemistry with someone you're compatible with.' So what is it that predicts chemistry? 'Ah,' says Gonzaga, who heads a team of five top psychologists. 'We're still working on that.'
More inspiration:
Read 3 signs you are ready for a proper relationship by Madeleine Mason on LifeLabs