Indulge in a hammam treatment
Feeling disconnected from the world? Perhaps an ancient pastime could be the answer to bringing you back to the here and now. Amerley Ollennu investigates the ritual of the hammam. Plus, scroll down for a special offer at Urban Retreat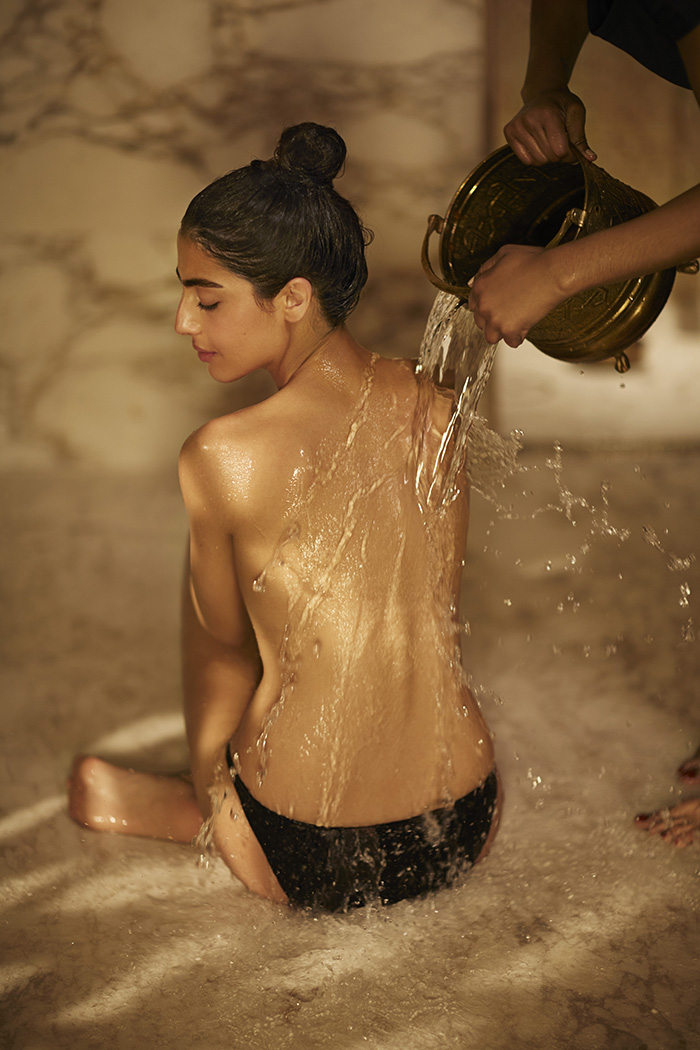 Ancient civilisations such as the Greeks, Romans and Arabians have understood the healing properties and wellness benefits of daily bathing – not only the power of water, but the importance that bath houses played socially. 'In Morocco, the origin of the hammam stems from the instructions on hygiene and the prescribed ablutions within the Islamic faith,' says Aude Koch, spa director at La Mamounia in Marrakech. 'For many faiths, water is a divine gift; it purifies the soul and is a symbol of wisdom that quenches the soul's thirst. These beliefs have made the hammam (and variations of it) an obligatory pursuit for the great events in life: birth, circumcision and marriage.'

Besides any religious beliefs, as humans we have an affinity with water – we ourselves are made up of around 70 per cent of it and without it, we wouldn't be able to survive, which makes H2O so incredibly precious and powerful. The West also has a history of communal bathing, but Western bath houses had less of a ritualistic element to them and were more of a necessity, as washing facilities within houses were rare. That said, friendships were forged and a sense of community was strengthened as time spent together became a welcome respite and bonding experience.

Today, we have many new methods of communication, but a text or Instagram 'like' can't make up for real-time physical contact. So it comes as no surprise to me that for those of us living in the West, the idea of visiting a hammam has become more intriguing and appealing. 'Touch is fundamental to who we are as social animals,' says psychologist Sophie Boss. 'It's our first language, used by mothers to bond with their babies and is, in fact, an incredibly sophisticated language that is near impossible to misinterpret. When we don't experience regular touch we feel bereft of love, care, support, tenderness and kindness, even if we are told verbally we are loved.'
Housing one of the first hammams in London, Urban Retreat, has managed to create a tranquil haven nestled among the hustle and bustle of Harrods. 'Our hammam is inspired by ancient Moroccan customs and influenced by luxury spa rituals. We wanted to provide women with a spirited and cultured social environment in which to relax, revive the mind and treat the skin,' says Reena Hammer, Urban Retreat's creative director. It's as much about how you are treated during the experience (akin to royalty) as the post-hammam offering – go with friends and enjoy tea and food in the luxurious relaxation room, reminiscent of a Bedouin tent – or reconnect with yourself while relaxing on a daybed post-treatment.
SPECIAL OFFER
Take advantage of this special offer from Urban Retreat at Harrods, exclusively for Psychologies readers. With every Traditional Hammam (£125) booked and experienced before 31 October 2015, you will receive a complimentary upgrade to the 80-minute Signature Hammam (£175). Plus, you'll also get another Signature Hammam ritual for free – use it yourself or treat a friend. To book, call the Customer Service and Guest Liaison team on 020 7893 8333 and quote 'Psychologies 2015'. Click here for terms and conditions.
The signature Hammam ritual includes black soap applications, full-body exfoliation, scalp massage and hair-washing, a traditional stretching massage, plus full access to the warm room and all relaxation facilities.