In search of balance
In a series called The Balancer, Eminé Ali Rushton teams up with wellbeing experts at Grace Belgravia for a holistic approach to health and happiness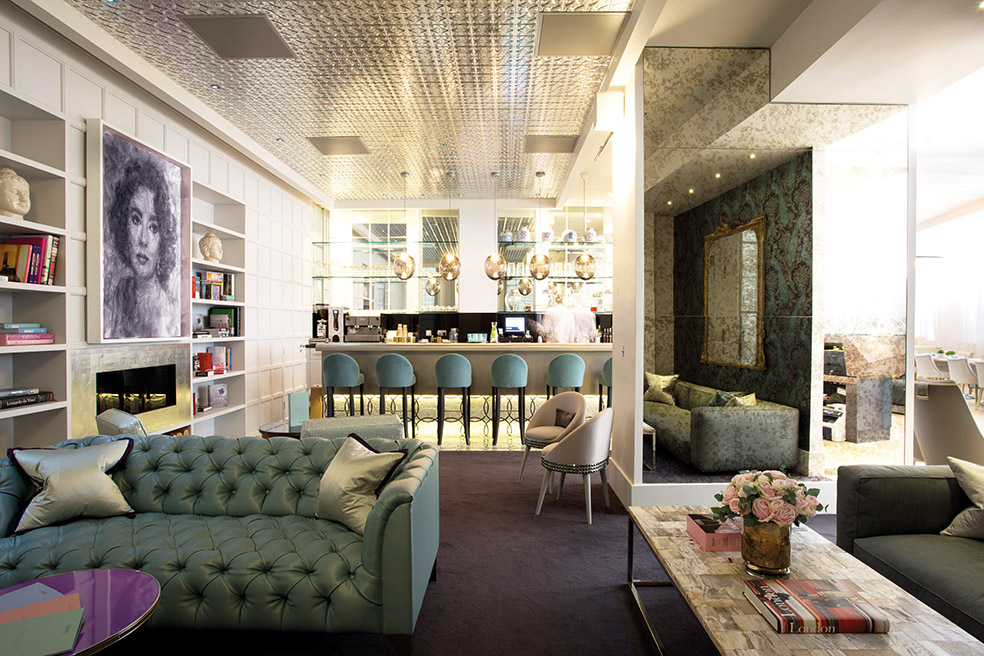 What to do when you've run out of steam but can't press pause? A few years ago, when freelance (and child-free), I would've returned to my family home in Cyprus for several weeks' recuperation. No responsibility – I slept like a baby, was reborn in the sea and feasted on fresh fruit and veg from the garden.
But, with my eldest daughter at school a late summer escape is no longer viable – a weekend away is logistical nightmare enough. Feeling as if you can't get away is a bit frightening – without 'me time', who is 'me'?
I started fantasising about a place where I could check in and be pampered, nourished, listened to, treated, energised – and check out in one piece again.
It was a conversation with a friend that led me to Grace Belgravia (pictured) and onto the spa's three-day Intensive Cleanse. In the very heart of London, this wellbeing spa and medical space is the ultimate escape.
I spent three days there – from 9am to 3pm – easy to squeeze in to even the most chaotic schedule. The approach is entirely holistic and customised – blood tests are taken two weeks in advance, and the resultant food plan and treatment menu is designed to support what your body most needs. I am often short on shut-eye, which showed up in low magnesium, iron, C and B-complex vitamins. At the outset, I made it clear I didn't want to be 'detoxed' – I needed the opposite; to be drip-fed, strengthened, supported.
In my mind, the worst thing you can do when running on empty is a challenging fast. Grace is in full agreement, and chef Keith Keiller brings a Southern California twist to the daily menu. Everything surpassed tastebud expectation – bursting with rich, complex, natural flavour, from Turkish eggs to salmon sashimi, portion-size is just right, too – sustaining, without overfeeding.
The effect of the cleanse was exponential. Skin glowed, fatigue faded, mojo returned. I was still being woken several times a night, but my body felt strong enough to deal with it. Being able to retreat without physically leaving the country is powerful – finding freedom in the middle of the city, midweek.
But, how to maintain it? The eternal question!
The answers will come via this collaboration with Grace, whose experts are the new 'power' behind The Balancer. Sharing practical advice on the best way to bolster health, boost energy, balance the disparate elements of a busy life and feed yourself spirit-lifting, body-boosting fuel, will, I hope, continue to help you walk a healthier, happier path. Don't forget to check out The Balancer channel on LifeLabs, where we'll share the highs and lows en route to a better, balanced self.
A three-day cleanse at Grace Belgravia, with food, snacks, personal training, spa treatments, medical, nutritional and acupuncture sessions, and wellbeing vitamin infusion included, costs from £1,900. Follow Eminé on Instagram and Twitter @eminealirushton
An introduction to Grace Belgravia
Grace Belgravia is a pioneering wellbeing space, café, spa and medical centre, in the heart of London. Offering membership to women only, it's a place where one can feel cared for – a space to catch breath, heal, spa, exercise and nourish oneself – with programmes led by world-respected health experts. As a result, this collaboration with Psychologies felt like a no-brainer. Strong values unite us – we both take a wholly holistic, 360˚ approach to wellbeing, and pride ourselves in supporting women in every facet of their lives, from making informed, intelligent decisions to boosting health and bolstering self-confidence. We are also no strangers to the myriad elements modern women juggle every day, and how tired, alone and rundown we all feel at times. Through The Balancer, we aim to help you with every aspect of your life – from fitness to preparing fast, healthy food – and will do so here, and via the new LifeLab Channel – The Balancer. Please find us, and let us know what you think. We're here for you – to power your life, lift your mood, focus your mind and better your body.
Kate Percival, founder, Grace Belgravia. Follow Grace Belgravia on Instagram and Twitter @gracebelgravia
Photograph: Grace Belgravia