How to stay positive and cope with redundancy
How can you cope better with redundancy and its affects on your emotions? When Amerley Ollennu lost her job, she consulted three career experts and learned that letting go at work can open up wonderful possibilities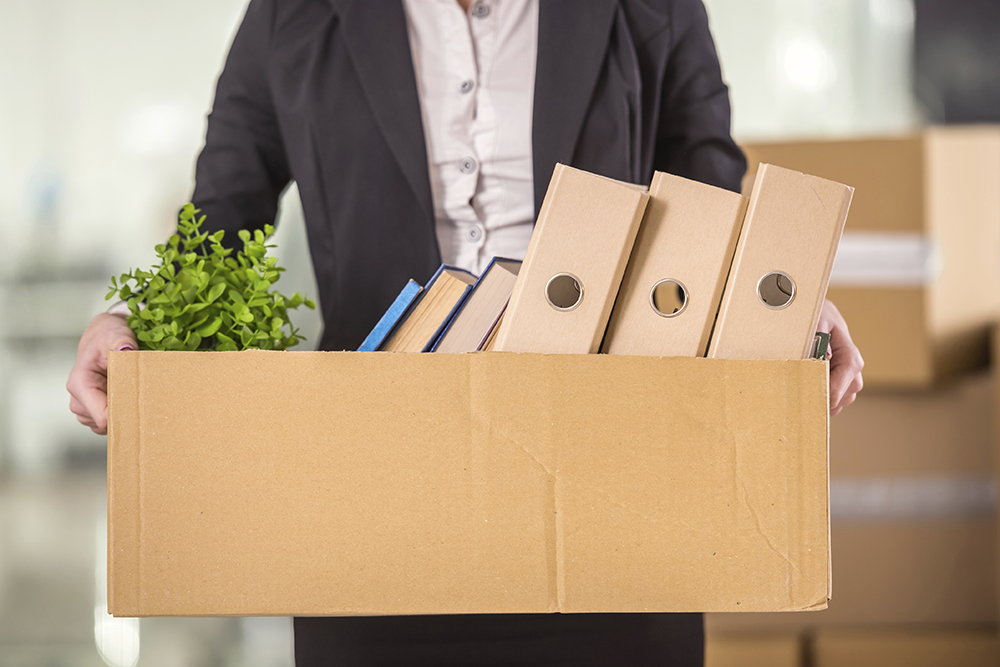 Last year I was made redundant. It was a shock but, if I am honest, I had been itching to move on to something new for a while. Nevertheless, it wasn't long before I felt anxious and lost.
This 'hiccup' did not align well with the career plan I had outlined 16 years ago. I had wanted to become a director at a magazine, which meant I would head up my own section, curate the content, manage staff and write stand-out features. My plan comprised all the steps I needed to take to get the dream job: the university I had to go to, the degree I should study and the roles I had to land along the way. At times it felt like a struggle, but I never wavered from aiming for my goal.
Now, as my trajectory came to a screeching halt, I found myself wondering if this 'dream job' was still what I wanted. Should I move on to my ultimate goal of building a brand and a business (although I had no idea how I would do that) or should I scrap making plans altogether and go with the flow (to avoid disappointment)?
Fast-forward four months and I felt like I was wading in deep water with no end in sight. I had kept busy freelancing, thanks to the support of colleagues in the industry but, as time went on, I felt more and more like a failure. The redundancy started to cripple me emotionally and professionally. So, I sought out a number of top career coaches to help me through the crisis.
Review your goals during redundancy
'There is substantial research that proves people who set long-term goals have more perseverance, stronger focus and greater success,' explained psychologist and leadership coach Sarah Rozenthuler. However, she also shared that, 'Many of us outgrow our goals. What inspired us a decade ago is no longer what fires us up today.'
I realised I had reached the point where the only thing that validated me as a person was the fact that I was on the path to achieving my goals.
My confidence and sense of self-worth were tied up in it. Losing my job and not being able to find new full-time work made me feel that the director role I had wanted for so long was out of reach – ergo my life was ruined. After talking to Rozenthuler, I knew that, if I could become successful working for myself, I would be able to let go of the feelings of failure. I had not outgrown my goals – but my industry had changed so much that, if I kept plugging away at my plan, I might get left behind.
The rise of social media, blogging and vlogging has allowed non-experts to gain popularity and exposure, ultimately creating their own brands. Perhaps 'new' media was a field I needed to investigate further…
Staying positive during redundancy
The more I thought about it, the more my linear plan felt restrictive. Rozenthuler agreed: 'Goals can become a straitjacket rather than a springboard. If we hold on too rigidly to our future plans, we can miss what life might be calling us to do in the moment.' She stressed that having a broader focus left room for 'the unexpected door opening, the synchronistic conversation or the unsought-after opportunity', whereas a detailed, fixed plan may not.
My session with brand expert and managing director of The Upper Story, Alicia Thakrar, took a practical turn. Thakrar wanted to identify my true passions. She explained: 'As human beings, our strongest driver is to ensure our safety and survival – but this can sometimes conflict with the powerfully curious and creative parts of ourselves seeking joy, meaning and fulfilment.'
What is your ideal new job?
Thakrar worked with me to visualise my ideal job and connect with what I really wanted out of life. It turns out this was the very opposite of the director title I had worked so hard to achieve. Instead, I realised I wanted to work for myself and I didn't want to wait much longer to do so.
Thakrar also encouraged me to deepen my understanding of my fears and belief systems. I soon realised I wasn't as confident and strong-minded as I thought I was.
I discovered I needed validation from others and working at a magazine that nurtured my talent made me feel safe. On the other hand, working alone meant I would run the risk of not getting positive validation from anyone – and also failing publicly – which is why, although I've known for some time that I wanted to try my hand at vlogging and TV presenting, I had actually been too scared to put myself out there.
She encouraged me to look at what excites me – most notably my love of working in front of the camera – and my beauty, wellbeing and fitness expertise, and how these could realistically fit into my 'new' working life. I was asked to think big and visualise my ideal work day. It went a little like this: wake-up, work out, guest present on a morning TV show, meet with a brand representative to discuss an upcoming collaboration, film a vlog for my YouTube channel then talk to manufacturers about the launch of my latest product. I found these question and visualisation techniques really helpful as all roads led back to vlogging, TV presenting and the idea of building a brand around myself before seeing what products could spin off from there. This all helped me fine-tune my focus going forward.
Emotional affect of redundancy
'In our modern society, there is so much pressure to adapt very quickly that we can feel incredibly anxious and judgemental about ourselves if we don't leap to a new position and change instantly,' said Eyes Wide Opened psychologist and career coach Julie Batty during our session. 'We call our natural adjustment; our pause to consider and survey the altered terrain of our lives, "dithering" or indecisiveness, but I think it's a powerful opportunity to take stock.'
I had just finished explaining that, even after all the work I had put in figuring out my next steps, I still couldn't muster the energy to push forward. I called it 'procrastination', but Batty identified that my subconscious and conscious minds were, in fact, taking time to adjust and process my new circumstances.
She encouraged me to give myself time to let my changed focus lay foundations in my psyche. I quickly realised that perhaps this 'threshold' was actually a safe place for me to be in that moment. It gave me time to analyse my options, figure out if I had any potential allies or mentors to help me and work out what my hurdles might be and how to overcome them.
Moving on from redundancy
The opportunity to share my hopes and fears with professional coaches without judgement meant I was able to get valuable feedback to help me progress. It felt like a death: for so long I had blindly followed my plan without question and, although I now believe being made redundant was the best thing that could have happened, it has taken me six months to process this big change.
The sessions helped me understand myself and put my fear of failure into perspective. Learning to be patient has been key; learning fearlessness is even more beneficial. I had been resistant to change because of my fear of the unknown but, by letting go and being open to new possibilities, I have made great strides. I'm still freelancing, but I have put my money where my mouth is and purchased a camera, learned how to edit videos and launched a YouTube channel and website.
I've also learned to share my career dreams with others. You would be surprised how many people want to help you reach your goals! From the film-maker at a dinner party, who offered to watch my first video, to the friend who shared her digital advertising wisdom so I might one day make money from my efforts.
There are moments when I yearn for the security of a nine-to-five job with a pension and paid holidays – but then I realise I'm having too much fun being my own boss, saying yes to unexpected opportunities and, ultimately, building my brand – which is exactly what I always wanted to do.
Are you coping with redundancy?
Read more advice on the careers page of our website, here.
For more information about the coaches, visit sarahrozenthuler.com, theupperstory.co.uk and ewopened.com.