How journaling can improve your relationship and sex life
Many of us journal for our mental wellbeing or even for our life plans and goals, but could journalling help you to improve your relationship and even sex life? Dr Katherine Hertlein, a world-renowned couples therapist explains how...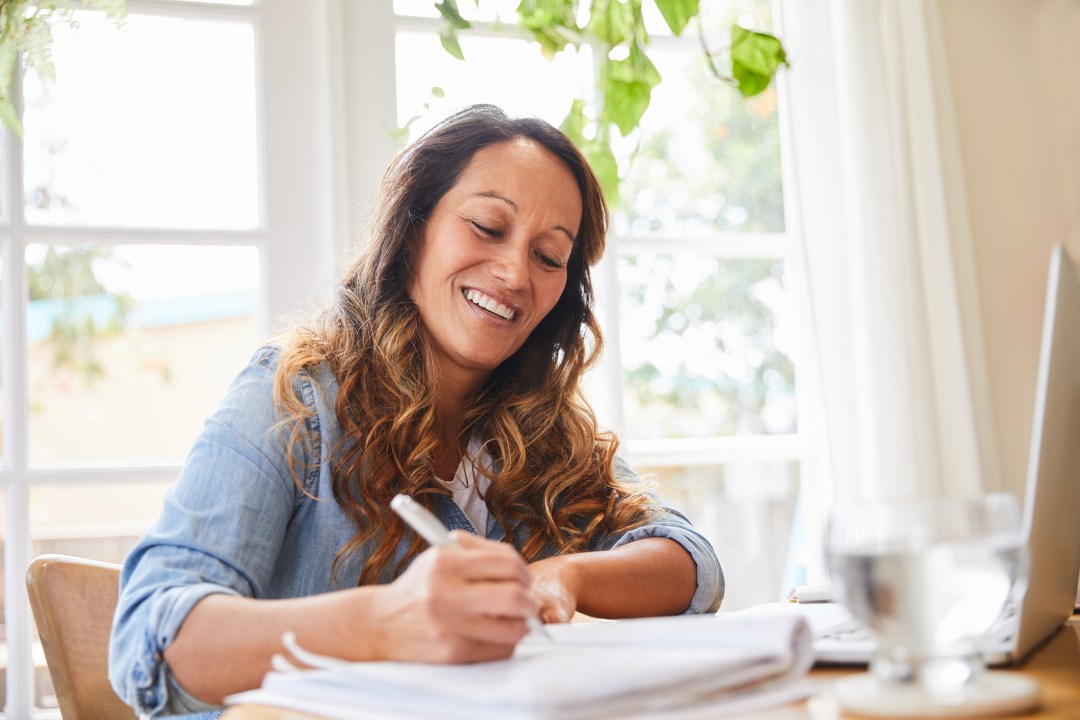 Journalling has become something of a trend in the last few years but it's also a great way to improve your relationship with your partner and improve your sex life. As well as improving your wellbeing, journalling can help you to identify areas of conflict, as well as areas of happiness within your relationship, and allow you and your partner to identify what you need to work on as well as how to do more of what makes you both happy. Here, Dr Katherine Hertlein, a world-renowned couples therapist and Expert Advisor at Blueheart, reveals how to use journaling to improve your relationship and sex life.
What is journaling and how do we do it?
Journaling is a written record of our thoughts and feelings. There aren't any hard and fast rules to journaling, although this activity is more effective when you commit to it every day. Journaling is a great way to track everyday life and how you feel, which can be used to hyperfocus on specific issues or a specific part of your life such as work, a relationship or even your dreams. It's a highly effective way to find out what makes you upset, or happy and provides a great way to self-reflect.
How journaling can improve your relationship
Journaling can help you identify the strong and weak parts of your relationship. If there's a day that you argued with your partner, or you felt distant from them, then journaling can help you to reflect on where that conflict or feeling might stem from.
In identifying these causes, you can then use them to create a conversation with your partner to work through the conflict. For example, if you find that you often argue on Sunday evenings, it could be down to work anxiety linked to Monday morning. If so, it's important to talk through this with your partner and understand how they feel, and why they might feel this way. The key here is not to be a problem solver, but to listen and empathise with them so they feel understood.
In the same way, journaling can also help you identify when you're the happiest with your partner. Is it when you're experiencing new things together, or speaking about the future, or making plans? Whatever it might be, make sure you highlight it so that you can do more of what it is that makes you happy.
Journaling can also be a great way to bring you and your partner closer together. Not every journal entry needs to be about your relationship, it can also be about your partner. Some key questions to explore include:
What initially drew you to your partner?
What are the 3 qualities you admire most about your partner?
What are 3 you'd like your partner could teach you?
Journaling can also improve intimacy
Journalling can improve your intimate life in the same way it can improve your relationship. If you're looking to improve intimacy with your partner, or just take it to the next level, journaling can help to explore your sexuality and pinpoint what exactly it is that you find desirable. Sex journalling will involve writing down what you hope to achieve from the journalling experience, documenting sexual fantasies, documenting new things you want to try with your partner and noting down what you enjoyed about your sexual experiences, as well as what didn't go so well.
Some tips for effective journaling:
Note down your goals. Start by setting yourself some objectives for your journal. This could be to improve intimacy with your partner, to reduce conflict, to strengthen your relationship or any other relationship goals you may have in mind. Doing this allows you to measure the success of your journaling journey, and can act as a reminder as to why you started, and motivate you to keep working towards that goal.
Be completely honest. There will sometimes be some negative thoughts and feelings around whatever it is that you document. But to get the most out of this activity, try to write everything down, including the negatives. Your journal is a great place to put the thoughts and feelings that you might not be comfortable sharing. Bottling up how you feel can cause emotional distress, so use your journal as a way to let out some of those internal thoughts and feelings.
Be consistent. Consistency with this type of exercise is essential to get results. Ideally, journaling should be a daily activity, but if you have a busy schedule, then weekly is fine.
Share learning curves with your partner. Relationship journaling is more effective if both you and your partner choose to take part. A great exercise in couples journaling is to share key learnings with your partner, such as identifying any recurring issues or sharing the highs of your relationship. This allows you to see whether your partner's experience aligns with yours, and provide some insight into each other's thinking.
Overall, journaling is a great way to bring you and your partner closer, as well as helping you to work through any conflict.
Words: Dr Katherine Hertlein, Expert Advisor at sex therapy app Blueheart.