Hope & Glory gluten-free chocolate and hazelnut cake
This gluten-free Indian-inspired chocolate and hazelnut cake is an ideal partner for Hope & Glory Assam. The smooth, full-bodied taste of the tea compliments the sweet, nutty, rich chocolate flavours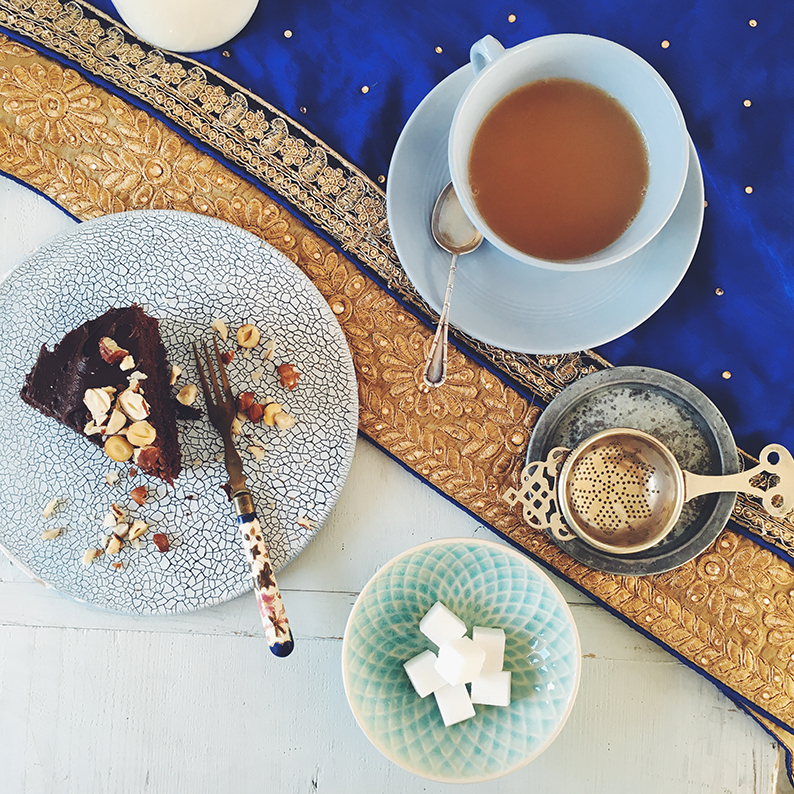 Ingredients:
350g whole blanched hazelnuts
60g milk chocolate, melted
250 dark chocolate
1 tsp vanilla extract
250g unsalted butter
6 eggs separated
250g golden caster sugar
50ml chocolate liqueur
200g chocolate & hazelnut spread
Method:
1 Preheat oven to 200C/Gas.6 Grease a 24cm loose bottom cake tin with cocoa powder.
2 Lay hazelnuts out on a baking tray.
3 Bake in a preheated oven for 10 mins or until golden brown, remove from the oven and allow to cool measure out 225g of the hazelnuts and blend in a food processer until fine breadcrumbs and then set aside.
4 With the remaining hazelnuts divide in half and poor over melted chocolate and mix. Line greaseproof paper onto a tray and lay the chocolate coated hazelnuts onto the tray and place in the fridge.
For the cake, change the temp of the oven to 180C/Gas 4
5 Mix the egg yolks with sugar until thick and creamy add the vanilla extract and the chocolate liqueur and mix well.
6 Mix the butter as dark chocolate over boiling water wait until the ingredients are melted and then add the blended hazelnuts and allow to cool then mix in the egg yolk mixture.
7 Mix the egg whites in a separate bowl and then fold into the cake mixture. Transfer the cake mix into the prepared cake tin
8 Bake in the oven for 40 mins, remove from the oven and allow cake to cool on a cooling rack. Once cool, transfer onto a serving plate and spread the chocolate spread evenly over the top remove the chocolate covered hazelnuts from the fridge and place on the top along with the plain hazelnuts.
Photograph and recipe: Hope & Glory. Go to www.thehopeandglory.co.uk