Honey, orange and thyme-glazed Gressingham duck breast
Why not try this honey, orange and thyme glazed duck breast recipe for the perfect meal on Valentine's Day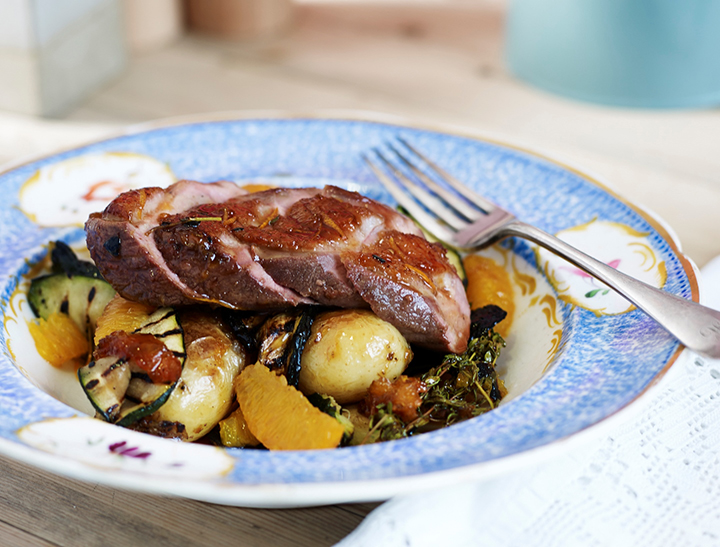 Gressingham Duck breasts are delicious with a variety of accompaniments. For those who are watching the calories a skinless duck breast has fewer calories and under half the fat of a skinless chicken fillet ­(a skinless duck fillet has 92kcal and 1.3g of fat per 100g compared to a skinless chicken fillet that has 120kcal and 3.2g of fat per 100g).
Serves 2
Preparation time: 10 minutes
Cooking time: 25 minutes
Ingredients:
2 Gressingham Duck breasts
2 large oranges
10 new potatoes, boiled in salted water and then cut in half
2 cloves garlic
1 bunch of thyme
120g honey
Method:
1. Pre-heat oven to 180˚C
2. Score the skin of the duck breasts and pat dry. Peel and segment one of the oranges and zest the other orange and squeeze the juice out. Set both aside.
3. Boil the halved new potatoes for around 15 minutes or until soft in salted water.
4. Place a pan onto a low to medium heat, season the duck with salt and place into the pan with no oil and cook for 6-8 minutes or until the skin is crisp and golden. Pour off any excess fat as you cook. Flip the breast over and seal the meat for 30 seconds.
5. Transfer to a baking tray and place in the oven for 4 minutes.
6. Meanwhile place the pan back onto heat and add in the honey, orange juice and zest, garlic and half the thyme. Reduce the sauce by half. Add in the potatoes and the orange segments and continue to simmer until loosely sticky. Set aside.
7. Remove the duck from the oven and glaze the skin generously with some of the pan mixture. Return to the oven for 2-3 minutes if you like it rare (cook for a few more minutes if you prefer it medium to well done), take out and allow to rest for at least 5 minutes.
8. When you are ready to eat, bring the pan up to the heat, divide the sauce and potatoes onto 2 plates. Carve the duck breast into 5 or 6 pieces and place on top. Serve with your favourite greens – pan fried courgette goes perfectly with this recipe.
For more information, Gressingham has lots of recipes along with 'how-to' videos on its website www.gressinghamduck.co.uk