Gluten-free blood orange polenta cake
It's time to dust off those coffee mugs and dig out your recipe book, as Macmillan Cancer Support's flagship fundraiser, the World's Biggest Coffee Morning, returns on Friday 30 September. Try this gluten-free recipe from the charity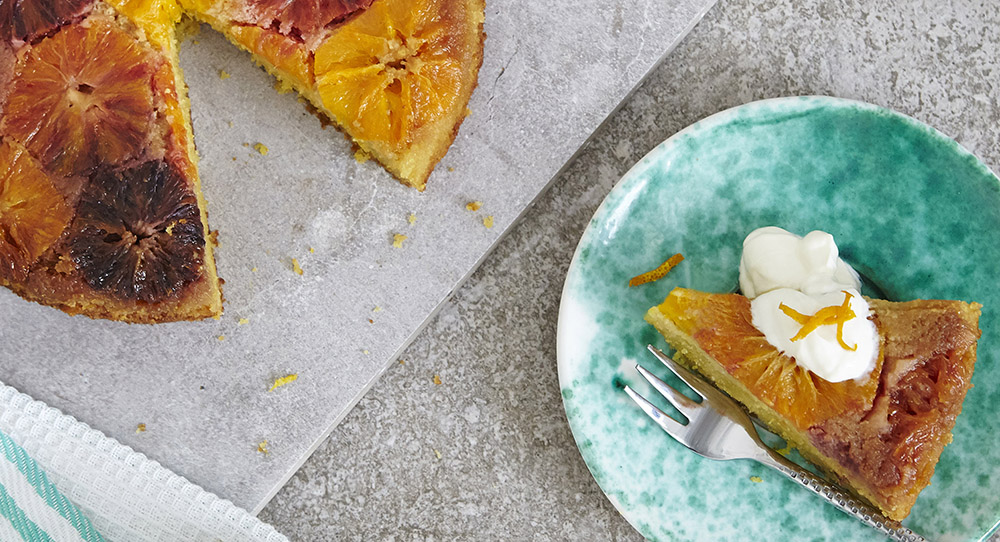 Preparation time: 15 minutes
Cooking time: 40-50 minutes at 180°
Serves: 10
You'll need a 23cm round cake tin.
Ingredients:
For the syrup and blood orange-
45g unsalted butter
140g light brown sugar
16ml lemon juice
Three medium blood oranges
Five cardamom pods
One sprig of rosemary
For the cake batter-
200g unsalted butter
200g light brown sugar
Three eggs
16ml vanilla extract
200g ground almonds
100g coarse polenta
Zest of one orange
One tsp orange blossom water
70g crème fraiche
3g baking powder (gluten-free)
Method:
Grease a spring form round tin (23cm) and line the bottom and sides with baking paper before greasing again.
In a small saucepan, over medium heat, melt 45g butter. Then add the brown sugar, lemon juice, cardamom pods and rosemary sprig. Stir until the sugar melts, for around three minutes. Remove the aromatics with a spoon and then scrape the syrup into the bottom of the prepared tin.
Grate the zest from the orange and reserve this for the cake batter. Then slice off the tops and bottoms of both oranges. Remove the rind and pith, following the curve of the fruit from top to bottom. Then cut the oranges into 0.5mm wheels. Arrange the wheels on top of the brown sugar mixture in a single, tight layer.
Beat the butter and sugar in a large bowl until light and creamy. Beat in the eggs one after the after and stir in the vanilla extract.
In a second bowl combine the ground almonds, polenta, orange zest, orange blossom water and baking powder. Stir this into the cake mix.
Pour the batter over the syrup and blood oranges and bake for 40-50 minutes, until the top is light brown and the cake is slightly loose from the sides of the tin.
Allow this to cool for 10 minutes. Remove from the tin and carefully turn it out onto a plate. Delicately remove the greaseproof paper from the cake. Serve with crème fraiche and a grating of orange peel.
Macmillan's World's Biggest Coffee Morning takes place on Friday 30 September 2016.
Holding a coffee morning is the perfect chance to catch up over a cuppa and a slice of something delicious for a great cause. Whether it's a coffee morning at work, an afternoon tea party or a great British bake off, every cake baked, cup of coffee bought and laugh shared helps Macmillan's work.
Click here for more recipes or to register to hold a coffee morning.