Get healthy skin this summer
Perdita Nouril outlines the golden rules for being safe in the sun (when it's shining…)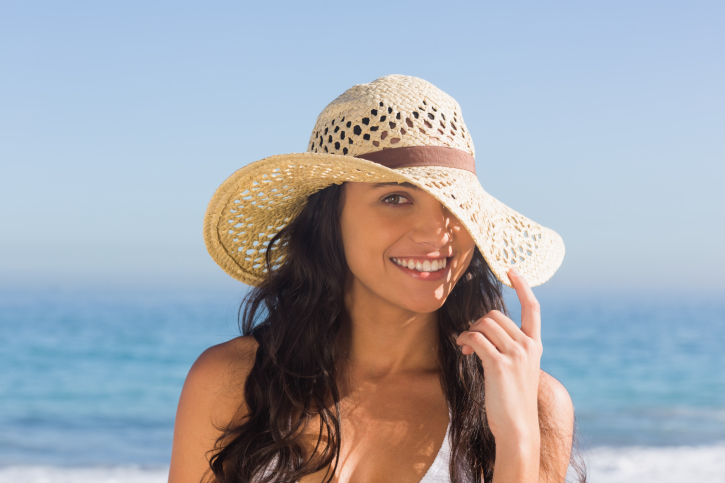 The sun's been shining and we've been enjoying the great outdoors once again. But we haven't all been playing safe. New figures from Nivea Sun and Cancer Research UK revealed that despite 92 per cent of Brits knowing that too much exposure to UV radiation can increase their risk of skin cancer, more than a third (35 per cent) have been sunburnt on home turf in the past year.
Of the 5,200 people who were asked about their suncare behaviour, only 34 per cent who go out in strong sun in the UK always spend time in the shade, and only 25 per cent always reapply sunscreen throughout the day or cover up with a t-shirt or hat. While it's true that the sun has mood-boosting and bone benefits, too much exposure to UVA and UVB can cause premature ageing and significantly increase the risk of skin cancer.
Debunking the myths
Here are the golden rules for enjoying the sun safely:
• Spend time in the shade if your shadow is shorter than you as this means the sun is at its strongest. During the UK summer, this occurs between 11am and 3pm.
• Apply sunscreen generously and reapply regularly to make sure you get the level of protection on the bottle. Research suggests that the majority of us only use half the amount we actually need. If you're sunbathing remind yourself to reapply by setting your phone alarm to go off every two hours. If you're in and out of the sea, swimming pool or working out then top up after each activity.
• The low cost of sunscreen doesn't necessarily mean substandard quality, as legally all sunscreens must offer the protection they claim. Price, therefore, is usually down to other factors such as scent, added skincare benefits or wearability. Decleor Aroma Sun Expert SPF50, £28.50, is formulated specifically for mature skin so it provides super strength sunscreen protection and works to soften fine lines.
• Always cover up when the sun is strongest. Opt for t-shirts but make sure the material isn't too thin otherwise UV rays will still creep in. With hats, wide-brimmed or foreign legion style caps are best. Sunglasses are a must as they help protect the delicate eye area from wrinkles as well as age spots
• Make sure you apply your sunscreen to every part of your body. Skin cancer is often found on ears, head and lower legs as these tends to be areas we neglect. Hawaiian Tropic Shimmer Effect Lotion SPF25, £13.99, is packed with light reflecting minerals adding a subtle sheen which also doubles up as a guide so you won't miss an inch.
• Experts from Cancer Research UK recommend you use at least SPF15 sunscreen, with a high star rating. Don't make the mistake of thinking that SPF50 offers nearly double the protection of SPF30. An SPF6 filters out 75 per cent of UV rays while an SPF15 filters out 93 per cent. Above that the difference is little, a SPF30 filters out 97 per cent of the sun's rays and an SPF50 filters out 98 per cent.
• Having a healthy glow can make us feel body-confident, but after you turn 30 developing a tan takes longer as the skin's natural melanin drops by 20 percent. Reduce your hours in the sun and top up with a gradual tanning lotion. LDN Skins Gradual Tanning Lotion, £22, develops over a couple of days so you'll feel like you're getting a real tan, only without the damage.
• If you're fair-skinned you should generally avoid the sun altogether as you're more likely to burn than your darker-skinned counterparts due to lower levels of melanin. However, having dark skin doesn't make you immune from sun damage either. Research carried out by the American Academy of Dermatology found that dark-skinned people are actually more likely to die from skin cancer because of the commonly held belief that people with darker skin don't burn in the sun. It gives a false sense of security so they are less likely to wear sunscreen and also less likely to routinely check for signs of skin cancer.
For more sun safety information from Cancer Research UK visit sunsmart.org.uk