First creation: the artisanal ethos behind Darphin
From one of the first serums, to the patronage of local artists, there's more than a little je ne sais quoi about the iconic French brand Darphin. Eminé Ali Rushton looks at how the global beauty company maintains its artisanal ethos, plus find out about our subscriber offer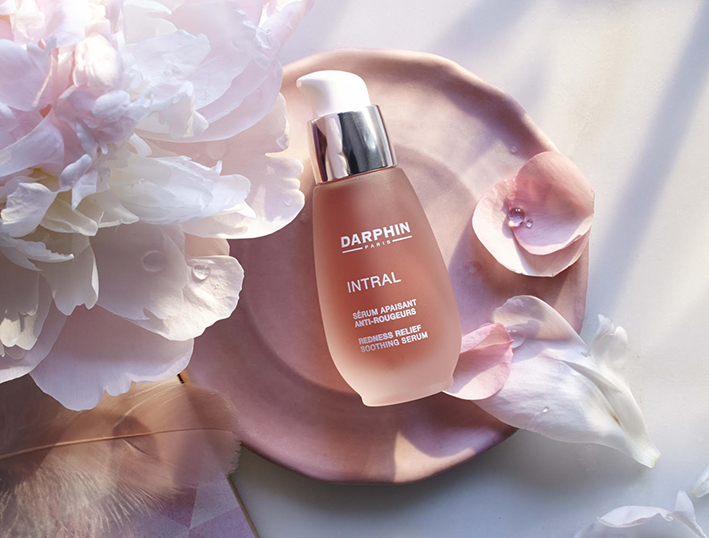 When I mention the name Darphin to my friends, they initially draw a blank. Then I'll take the product out of my bag – the iconic mint-green packaging with glinting silver lettering – and the nods follow, 'Oh yes, I love Darphin!'. For a brand that was born in the 1950s and has gone on to inhabit spas, stores and pharmacies worldwide, it's unusual that it has never felt like a 'mass market' brand. It's owned by Estée Lauder Companies, but things are done in a very particular way – from the diminutive laboratory in Paris, where all new products are created, to their charming Instagram account that forgoes incessant 'PR' back-patting in favour of a tour de France – the best restaurants, boutiques, exhibitions – unapologetically and proudly Parisian (and when Iris Apfel pops in for a facial, she pops up on the feed, too).
The right chemistry
To understand the present, we need to consider the past – and the brand founder, Pierre Darphin. His wife has been quoted as saying, 'he was not an easy man. He expected the best, of everyone, and everything'. Whether or not he invented the world's first skincare serum is hotly contested – but he certainly made one of the first: Intral, £55, was created in 1958, the same year that Pierre Darphin opened the Institut de Beauté in Paris, and remains a bestseller to this day. Darphin himself was trained in kinesiotherapy (a science-based form of physical rehabilitation and exercise), and later worked as a dermatologist assistant in the Hospital Saint Louis in Paris, and it was this unusual combination of training and expertise that informed his pioneering facial techniques.
Pierre Darphin was also one of the first to use acupuncture, skin-sculpting massage techniques, galvanic therapy, micro-currents and customised skin analysis in his treatments. Once established, he took to the road – invited to be the 'guest' facialist at Darphin franchise institutes across France where all therapists were personally trained by Darphin – as word of mouth, and waiting lists, continued to grow.
Today, the exacting legacy of Pierre Darphin is driven forward by a circle of brilliant women. Visit Darphin at their lab, 30 minutes outside of central Paris, in a sleepy residential neighbourhood, and you wonder at the intimacy of the arrangement. The lab is small, but state of the art. Yes, white coats are worn, but the environment is far from clinical – enthusiastic female chemistry grads mix with chemist engineers, such as Julie Leproux, who worked on perfecting the unique melting-butter texture of the 8-Flower Nectar Oil Cream, £65, overseen by the visionary Laurence Cassereau, director of research and development. Pierre Darphin's perfectionism is alive and well here. The production methods used are often time-consuming and the raw ingredients very costly. Once the formula is created it is then pilot-tested in the same lab. If it passes, it is sent out for testing. The products are then made to the exact recipe in a factory in France.
Formula one
Simplifying the formulas might make life easier, but that's not on the table– the 8-Flower Nectar Oil Cream requires the oil of 280 petals per pot, 30 hours of continual stirring, and 168 hours to 'set'… and Leproux is the first to attest to the difficulty of hitting the mark every time. 'The production process has to be meticulous – if you try to cut corners with this product, it just doesn't set properly. You can't rush it,' she says. 'Everyone knows it has to be completely perfect. We don't make it easy with our unusual formulas, or the expense of our ingredients, but this is the only way we know how to do it. It's the Darphin way.'
Has anything ever been reformulated I wonder, to save money or time? 'No,' she smiles. 'But we have reformulated whenever it's been possible to make our products even the tiniest bit better. All of our products are a minimum of 80 per cent natural – most are more; our 8-Flower Nectar Oil, for example, is 99 per cent natural. We will always have our foundation in nature and use so many different fruit, vegetable, nut and plant butters and oils. That's what gives things their unique smell and texture. But you also need to work very hard on creating stability. As a minimum, it takes us at least six months of research and then a full year of testing and evaluating before a product reaches the market,' says Leproux.
Darphin's latest launch has been two years in the making. The L'Institut Facial Sonic Cleansing and Massaging Expert, £125 (launching in May 2016), is the first tool that actively bridges the gap between the pioneering and hi-tech treatments developed by Pierre Darphin, and today's at-home user of Darphin products. Two detachable heads work to first deeply cleanse, then massage and boost microcirculation. Videos to highlight best usage will also be on the Darphin website, a bridge between spa and bathroom.
Future perfect
Then there are the surprising collaborations; Darphin eschews big names in favour of just-under-the-radar artists – such as Antoinette Poisson, a trio of young and inordinately talented (albeit photogenic) paper conservators, who have rediscovered a lost art of wallpaper and print-making, disused since the French Revolution. It was a smart move – both are exemplars of French heritage, and, 'The Art of Formulation'. 'They mirror our values because they never take the easy route,' says Caroline du Pin de Saint André, Darphin's global communications director, who spotted Poisson's painstaking work and commissioned them to work on a signature Darphin print – this is Darphin as patron to a forgotten art, and fitting given the brand's history.
It is also an unusual move given that most big brands are understandably looking to capture the lucrative millennial market, and forever seeking to sign the most powerful social influencers of the age. A hefty social following is also lucrative currency – late teen to mid-20s consumers have been shown to respond to creative use of social media and influence more so than traditional advertising. Darphin, on the other hand, seems to sidestep such commercial expectations entirely – their one defiant modus operandi is longevity. It cannot hurt that Darphin's largest territory outside of France is the beauty jewel in the crown – Korea. 'We are huge in Korea,' says du Pin de Saint André, 'because they get us. They're not afraid of layering – cleansing, toning, using a serum, an oil, a cream. They also love massage, and all of our products come with a specific application technique.'
Darphin has extraordinarily high brand fidelity across all territories, even in the notoriously fickle emerging markets, which are obsessed with the latest thing. It's also poetic that Pierre Darphin's original invention, Intral serum, remains the brand's bestseller. In an age of corporate cynicism and social media malaise, Darphin are a breath of French air – appealing to the aesthete and the artisan in all of us.
To experience Darphin, why not take out six months' subscription to 'Psychologies' for £11.97 and receive a free gift of Darphin Revitalising Oil, worth £25.