Fall in love with the beauty of Bali
And rediscover your dormant daredevil on a 'soft' adventure while you're about it…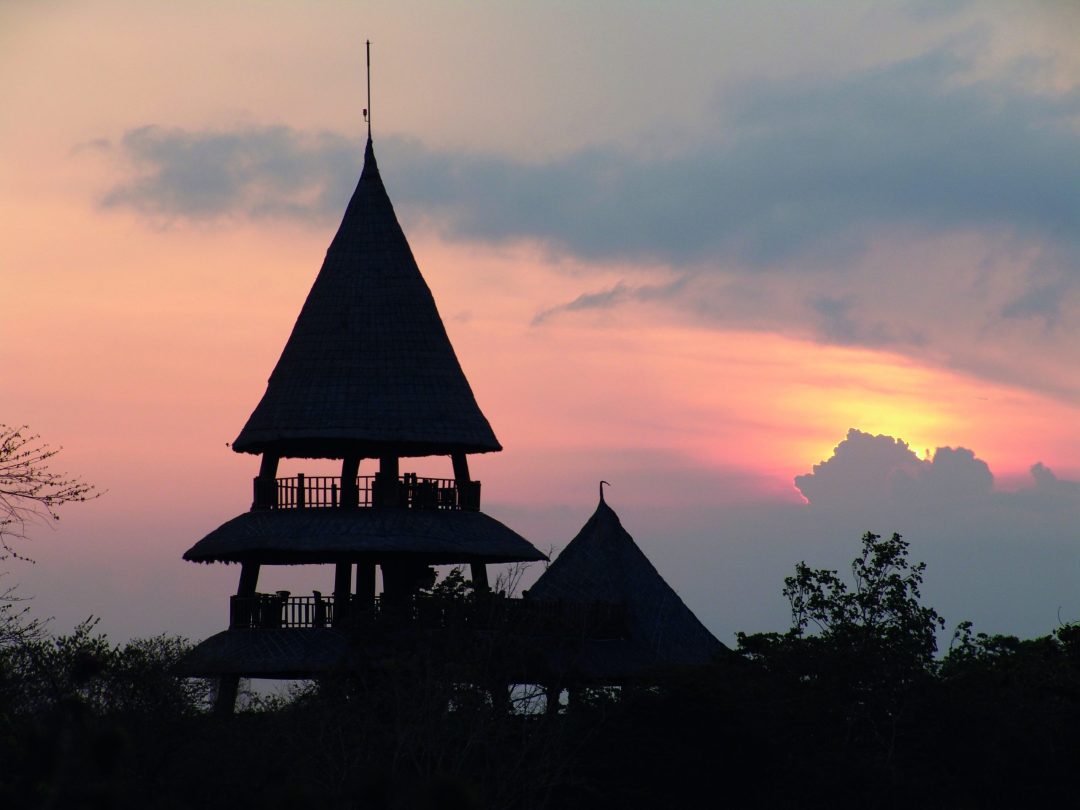 In my early twenties, my idea of adventure was backpacking around South America where I laughed (albeit nervously) in the face of danger. As I hurtle towards my thirties the daredevil in me has all but disappeared. Cue then, a soft adventure trip to Bali. I'll admit that it's a place I've never really associated with adventure, more as an Australian tourist trap where Western pilgrims, thanks to Elizabeth Gilbert and Julia Roberts, flock to eat, pray and love. Scratch beneath the surface and thankfully this majestic island still has some glorious pockets of untapped beauty yearning to be explored.
I stayed at the eco Sang Giri Tent Resort nestled high in the Jatiluwih Mountains. It's remote enough to satisfy Robinson Crusoe types yet the en-suite bathrooms, romantic four-poster beds and private sauna would please the most urban of city mice. Activities are on tap here and you can explore to your heart's content. My first challenge was a trek through the jungle. 'Watch out for leeches or grass snakes,' yells our guide and resort owner, Yansur, 'and on the off-chance we see a panther, try to outstare it.' I'm not quite sure if he's joking, but these are important life skills you don't learn on a European city break.
Next on my list comes mountain biking through dirt roads with breathtaking views surrounding me. Before I know it, the fields are all suddenly below me, while a tropical cornucopia lies ahead, thickened with lychee, papaya, and salak – the Balinese 'snake skin' fruit. It's relentlessly humid, and by the time we stop for lunch my legs are grateful that my flirtation with the hills is over. As we feast on fried bean curd and fresh coconut, I am mesmerised by the rice farmers working a few metres below. 'Would you like to have a go?' Yansur asks.
Within two minutes, I'm knee-deep, squelching my way through the cultivated marsh, trying my best to dodge water eels and catfish, which we later fry in local spices and eat for dinner. Chatting to farmers, it became apparent that rice is much more than just a food source in Bali. It is an inseparable part of daily life, as well as a part of the island's history, mythology and culture. I felt privileged to join in, if only for 40 minutes. My row of rice looks a bit wonky, but I receive smiles all round.
On our return to the resort, we take part in a spiritual adventure in the form of an early-evening temple ceremony. As I prepare the canang (offerings) of flowers for the gods, I do my best to think positive thoughts, as instructed by the local priest's wife. Once dressed in beautiful batik sarongs, we make our way up to the temple in silence. The 30-minute uphill walk is one of the most beautiful I've ever taken, and as the scorching sun dips below Mount Batukaru, we soak up the sweet smells of wafting incense and perfumed petals. I float back in a zen-like state and succumb to one of the most peaceful night's sleep I've ever had.
We continue our adventure in the Menjangan Resort, located at the heart of the Bali Barat National Park. It's home to several monkey tribes, deer and the endangered Bali white starling, all of which can be seen from the magnificent viewing tower that climbs above the treeline. Tourists are few and far between and the remote location easily offers the most secluded snorkelling. The dazzling coral gardens give way to descending cliffs that lead to seabeds positively riotous with marine life.
On my last day, as I lay in the shade of the mangrove trees, gazing at the ocean, I reflected on my adventure. I had eaten, prayed and certainly fallen in love with this secluded spot – take that Julia Roberts.
Perdita travelled to Bali with Western & Oriental and stayed at the Waka Gangga Resort, Menjangan Resort and the Sang Giri Resort. The five-night trip costs from £1,434 per person based on two sharing on a bed and breakfast basis (some additional meals are included). Price includes economy-class flights on Singapore Airlines from Heathrow or Manchester, private transfers throughout and some activities. For bookings with Western & Oriental, visit westernoriental.com or call 0207 666 1234