Equally shared parenting
It's not money, or even the in-laws. Kate Burt reveals the surprising issue that's most likely to cause divorce among working couples, and asks if it's time women learned to share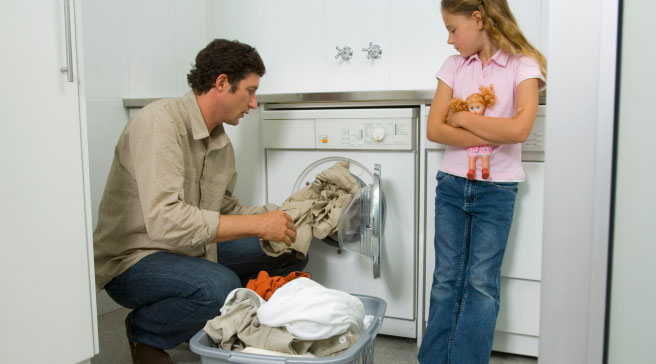 For the modern two-income couple, it's the home front where relationships can thrive or fail, with the division of domestic labour becoming highly emotive. New statistics from the US go as far as suggesting that couples who share employment and housework responsibilities are 50 per cent less likely to divorce. Over here, women's presence in the workforce may be rocketing, but that's not always reflected in the home.
British women in couples, on average, still spend two-thirds more hours on domestic chores than men. Yet 62 per cent of British fathers say they want to spend more time caring for their children, and a recent Aviva survey found there are 10 times more stay-at-home dads than 10 years ago, up from 60,000 to 600,000. In the States, devotees — male and female — of a drastic new doctrine for relationship success think they've cracked it. Equally Shared Parenting (or ESP) — then a website, now also a book — hit the mainstream when this radical approach to re-organising family life appeared on a cover of The New York Times Magazine in 2008.
The brainchild of Marc and Amy Vachon, ESP aims to break down a couple's responsibilities, tot them up, and then redistribute them evenly. When the Vachons' story went online, the message boards at The New York Times went crazy; the Vachons had hit a nerve. It's not that every previous generation since the 1950s hasn't tried to create a more even playing field for the sexes, but ESP is different. This time everything is up for reinvention and the revolution begins at home. Downsizing expectations is definitely part of the Vachon plan.
'All lifestyles require sacrifices of some sort. ESP is no exception,' says Marc Vachon. 'ESP couples typically reject the idea that maximising their pay cheque is the way to the "good life", choosing instead to make enough money to sustain their family and optimise their lives in the here and now — with the kids and with each other.' In practice this means fathers are expected to ask to go part time or at least work reduced hours. And if that's not possible, change career.
No wonder the Vachons warn that ESP takes 'years of practice'. 'Parents sacrifice the power of being in charge of a particular role in their relationship. Neither partner has the more important career, owns the title of chief parent, or is the household manager who makes all the decorating decisions. This means ESP couples have to become better at working together as a team in all aspects of running their home, raising the kids, and earning the money.'
Let's not forget the small print. Under the 'Sharing of housework' section, it warns: 'Most women naturally set the standards… the way laundry is done, which brand of ketchup to buy, and how to correctly vacuum all surfaces. This status quo doesn't work with equal sharing,' it continues, sternly. 'A woman's mantra must become "I will let go".' And, despite feminist advances, British women do seem to find this hard. 'It's partly an age thing,' says Susanna Abse, director of the Tavistock Centre for Couple Relationships in London.
The average thirty- to fortysomething was brought up in a household with traditional divisions of labour. 'My younger clients tend to have more confidence in each other's capacity; for men to care for children, or women to make a contribution in more traditional, masculine ways.' But our generation may be stuck in a self-sabotaging rut. 'We need to banish this idea that God made us CEO of the family,' says Sharon Meers, a former MD at Goldman Sachs, mother of two small children and co-author of Getting To 50:50 — How Working Couples Can Have It All By Sharing It All. There was excitement about what her book was saying to women, says Meers, particularly among male marriage therapists, 'because they believe that women have a hard time seeing themselves as in any way responsible for inequality in marriage'.
Dr Lynn Prince Cooke, sociology professor at the University of Kent, has studied the links between housework and divorce, and agrees. 'This gets downplayed by a lot of researchers; we call it the gatekeeping function,' she says. 'There's a lot of anecdotal data backing it up — one husband put it simply: "Her tidy isn't my tidy". [In this situation], the guy is really trying; he cleans the bathroom and comes out like a five-year-old waiting for validation. Then the woman will go and re-clean it. It's like slapping a dog on the nose just as it starts to get the idea of a new trick.'
The issue is compounded in Britain, paradoxically, because of how little housework we do, 'the least of many countries', says Prince Cooke. This is partly down to what she calls the 'Marks & Spencer effect' — the idea of buying ready meals and other time-savers that have reduced the domestic workload. Women have more time, but men do no more. 'It's a passive aggressive approach,' she says. Rather than asking for some help around the house we stay silent and reach for the ready meal. But of course it doesn't make the problem disappear — resentment simmers.
For all its neatness, Abse is dubious about the 50/50 model. 'In one way, it's an attempt to have equality,' she says. 'In another, it could be a very defensive arrangement; what you're avoiding is an experience of dependency. A very symmetrical, inter-dependent relationship, where both of you have equal power and control, only works up to a point — someone gets ill, loses their job, retires first…' Completely rejecting our have-it-all culture and choosing to follow a less affluent, less status-driven path takes guts and a lot of work — but work that, for many couples, has the potential to reinvigorate relationships harbouring resentment, exhaustion and frustration in both parties.
A recent Mumsnet survey revealed that couples row most about chores and tidying up (43 per cent) with money following a distant second (23 per cent). But could ESP ever really catch on over here? The Aviva survey suggests that 18 per cent of UK parent couples already share childcare equally.
What everyone seems to agree on is the importance of communication on the subject (and not while you're bubbling with rage after doing the washing up he 'should' have noticed). So if you find yourself sighing loudly next time you pick up that damp towel he dropped on the bedroom floor, it might be time to sit down over an all-American brunch and have an honest conversation about what you'd both like to change and how, together, you might start to make some of it happen.
More inspiration:
Read Cast off your father's shadow on LifeLabs