Do children make us happy?
We like to think that having children will bring us joy and a sense of wellbeing, but a growing body of research suggests that isn't so. So when it comes to parenting, where have we gone wrong? Emily L Baker looks at the evidence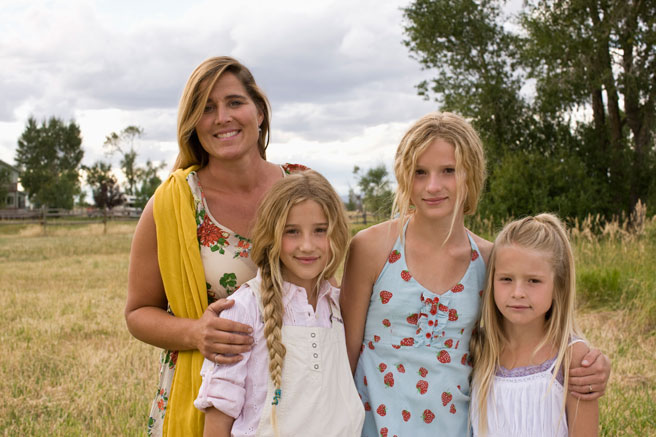 Sarah, 38, pours the last of the wine and puts the bottle down with an exaggerated thud. 'The thing is,' she says, 'David and I fight more than we ever did. We rarely have sex. I've missed out on several promotions at work and I live beneath this cloud of unending things to do that never get done. I love my children, but I can't help thinking I was happier before we had them.'
On my way home, I try to stifle the shock I feel at my friend's admission. But is my shock a reaction to her honest words, or to the realisation that I know what she means? A significant number of recent studies reveal that parents experience lower levels of emotional wellbeing and more frequent negative emotions than their childless peers. This might not seem surprising when you consider the relentless daily grind of nappy changing, school runs and teenage temper tantrums.
But, worryingly, these ill-effects also extend to parents whose children have left home. 'No group of parents, whether married, single, step or empty nesters, reported significantly greater emotional wellbeing than non-parents,' says Robin Simon, professor of sociology at Wake Forest University in the US. 'Of the three major components of adult life — employment, friendship and parenthood — raising children is the only one that doesn't promote wellbeing,' she says. This is disconcerting news for a society founded on the idea that having children is the key to a happy life.
'We all know that parenting is hard work, but it's assumed that the benefits outweigh the hardships,' says Nattavudh Powdthavee, a behavioural economist at the University of York and author of The Happiness Equation. He cites research that found a significant increase in life satisfaction for both men and women one year before the birth of their child and during the birth year, but then noted a sharp drop within one year after the birth. Four years later, parents were no happier than they were at pre-child levels. Powdthavee explains that parents are more likely to focus on mundane duties such as the school run or mealtimes, rather than the less frequent but more happiness-inducing moments such as a first smile, or even just a hug goodnight. 'We tend not to think about these rare but meaningful experiences on a daily basis, especially if researchers don't prompt us with a leading question about inspiring moments with our children,' he says.
While it's comforting to realise that parents might seem less happy only because they are overwhelmed with tedious chores, the cumulative effect of those duties, combined with very real anxieties about their children's future prospects, can genuinely alter our experience of parenthood.
Is childcare becoming less satisfying?
Every generation knows how difficult parenting can be at times (and would probably argue it was harder for them) but many sociologists now believe that there have been social and cultural changes during the past 30 years that conspire to make the job harder than ever before. 'In the past 20 years or so, parenting has taken on this crazy emotional investment — popularly referred to as helicopter parenting — in which children are the centre of their parents' lives,' says Simon. 'Our parents wouldn't have dreamed of spending so much time with their kids.'
Indeed, parents now spend three times as much time with their children compared with a generation ago, according to research published this spring by Oxford University sociologist Dr Oriel Sullivan. Her research shows that more educated women spend the most time with their children, perhaps because they are aware of negative media reports about working mothers and they hope to compensate for the times when they are not at home.
But that extra time, which Simon refers to as 'the emotional intensification of parenting', might ironically translate to lower levels of satisfaction for parents. 'We've begun living for our kids — maybe because of an increasingly competitive society or maybe because in some weird way they've become a marker of our selfhood,' she says. 'But whatever the reason, there is less down time for parents and that makes them less happy. This rise in intensive parenting is happening against a backdrop of few or no social supports and the increased expense of raising kids, and all within a culture that tells us we should be happy. It's not considered normal to be unhappy if you have kids.'
And this is the crux. The taboo. Profess anything less than joy and you run the risk of being labelled a bad mother. When the writer Ayelet Waldman even dared to confess that she loved her husband more than her children, she received letters from readers telling her they were reporting her to the authorities, because she should have her children 'taken away'. When any celebrity mentions in an interview that having children was not quite what she thought, commentators read it as a cry for help rather than an expression of the ordinary conflict that any of us might feel. So, rather than getting easier, we are making things harder on ourselves.
At the same time, we are creating an even greater divide between parents and those who choose not to have children. If it is considered abnormal to be unhappy with children, it is still considered unnatural by many not to want a family. The number of voluntarily childless women in the UK is growing. Proportionally, it has almost doubled since the 1990s, with about 19 per cent of 50-year-old women not having children, according to the Office for National Statistics. Still, it takes courage to admit that you are perfectly content (if not positively buoyant) with your choice to remain child-free. Workplace tensions are emerging as childless workers campaign for the same rights as parents, who automatically receive maternity and paternity leave. As the resentment in both camps continues to grow, we are becoming more entrenched, whatever side of the division we're on. Instead of feeling we have choices — to have children, or to parent in our own way — we feel we must defend our own lifestyle at the expense of accepting others.
How to bring back happiness
It is possible to change our experience of parenting. If we can revise our expectations, and accept the negative emotions we feel as normal, we lessen the risk of feeling like failures. We must scrutinise our cultural expectations of parenthood, say experts, starting well before conception. Scott Stanley, co-director of the Center for Marital and Family Studies at the University of Denver, believes that many couples have children without considering if it will really make them happy, perhaps even to fulfil family or societal expectations. Stanley terms this approach to parenthood as 'sliding versus deciding', with the former resulting in a total life change that might not suit the individuals or the couple. 'A couple that decides being parents is who they want to be will have a better foundation for their expectations,' he says, 'because they've committed to children being central to their lives.'
Of course, avoiding the 'slide' and listening to our instincts can be hard. We seemingly have so much choice and control over our own fertility that it is difficult to determine what's best for us as individuals. If we delay parenthood, we're conditioned to interpret every pang as the pull to procreate. When — or if — we do start a family, that delay inevitably leads to greater self-imposed pressure. Chloe, 44, had infertility treatment for six years before giving birth to twins. 'I waited so long for these babies,' she says. 'But I found their constant demands and the loss of my personal life completely debilitating. I just wanted to send them back — after all that waiting.' It took several years, but Chloe eventually realised that she would be happier if she wasn't a full-time mother. 'But I felt I'd waited for them for so long that I ought to be with them every second,' she says.
Sullivan's research suggests we have channelled all our love, attention and energy into our children, when it may serve everyone better to keep some back for ourselves. 'We all need to step back,' says Simon. 'Parents have to recognise that they don't have complete control over kids and that we can't blame ourselves when our children don't do well.' Of course, children bring us fulfilment on a grand scale, but at a very high price of daily frustration. Ultimately, perhaps we all need to be just a little more selfish and accept those frustrations we cannot change as gloriously normal.