Chicken schnitzel with fresh tomato and chilli salad
Thomasina Miers is supporting Macmillan Cancer Support's new fundraiser 'Summer Lights'. Her recipe here is perfect for a summer evening with friends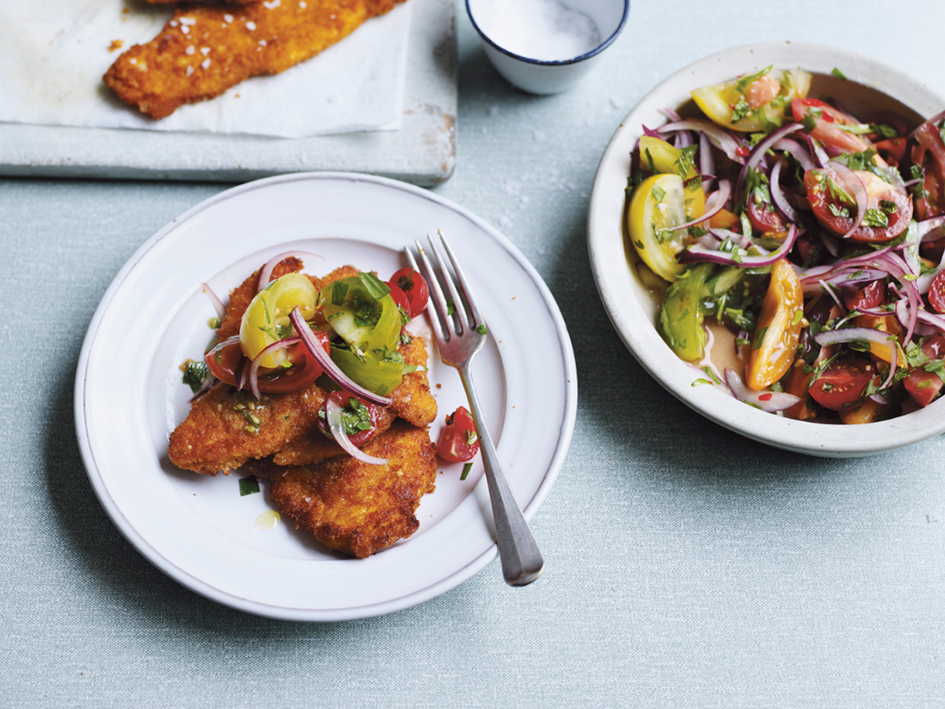 Celebrate the people who light up your life by holding a Summer Lights get together for Macmillan on Saturday 25 June. Come together and raise money to support people affected by cancer.
Recipe taken from Chilli Notes by Thomasina Miers (Hodder & Stoughton, £25), who is supporting Macmillan Cancer Support's new fundraiser 'Summer Lights'.
Serves 4–6
Ingredients:
4 chicken breasts, skinless
40g plain flour
1 tsp sweet smoked paprika
100g cornflakes, smashed
40g Parmesan cheese, grated
3 eggs, lightly beaten
30g butter plus a little olive oil
For the tomato salad
6 plum-sized tomatoes (mixed colours, if you can find them), sliced into fat wedges
A good handful of ripe cherry tomatoes (mixed colours, if you can find them), halved or quartered
A handful each of tarragon and mint leaves, roughly chopped
2 limes
4 tbsp good-quality, extra virgin olive oil
1 habanero/Scotch bonnet chilli, de-seeded and finely chopped
½ red onion, sliced very finely
1 tsp caster sugar (optional)
Method:
1. Spread out the chicken breasts on a board and cut them in half horizontally so that you have two thinner pieces (or into thirds if you are feeding more people). Mix the flour with the paprika, season generously with salt and pepper and spread out onto a large plate.
2. Whizz the cornflakes in a food blender, mix with the parmesan and spread onto another large plate. Beat the eggs in a large bowl. Toss each chicken piece first in the flour, then in the egg and finally in the cornflake mixture. At this stage you can put the chicken pieces in the fridge for a few hours or even overnight, to set the crumbs, or cook straight away.
3. Make the salad half an hour before you are ready to eat to allow the flavours to ripen at room temperature. Toss the tomatoes gently with the rest of the salad ingredients (perhaps start with half a chilli and see how hot you want to go) including the olive oil and lime juice and season generously with salt and pepper.
4. Heat a heavy-bottomed frying pan over a medium-high heat and add the fat. Fry the chicken in batches until golden on the outside and cooked through in the middle, about 3–4 minutes for each side. Alternatively, you can fry the chicken briefly in advance and then finish the cooking in a hot oven for ten minutes just before your friends arrive.
5. Serve with the salad and piles of mash or boiled new potatoes.
Register for your Summer Lights kit here.
Hannah Redmond, Head of National Events Marketing at Macmillan Cancer Support said: 'Our supporters have told us that they love the opportunity to get together with friends and family in the name of a good cause and that's exactly what Macmillan's brilliant new Summer Lights fundraiser is all about. It's a celebration of the summer and of the people that light up your life, as well as an opportunity to stand together for people affected by cancer. We're delighted to have something new for our supporters to get behind.'