Brazilian salsa cod with sweet potato wedges
This vibrant cod recipe is served with roast sweet potato wedges and a fruity, refreshing Brazilian-style salsa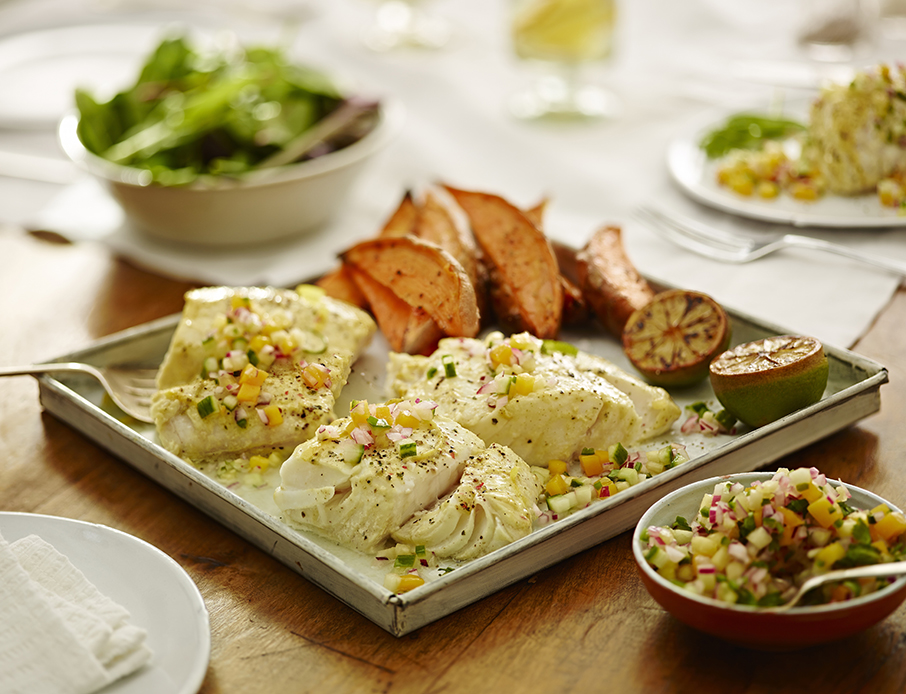 Traditionally eaten at Easter, cod or salt cod (known as bacalhau) is extremely popular in Brazil and stems from the South American country's Portuguese culinary heritage. This recipe is a modern interpretation, using fresh cod fillets combined with the tropical flavours of mango and pineapple and the subtle heat of green chilli and Maille Dijon Originale mustard.
Serves: 4
Preparation time: 20 minutes, plus marinating time
Cooking time: 40 minutes
Ingredients:
2 tbsp Maille Dijon Originale
Finely grated zest and juice of 2 limes and 1 lemon
3 tbsp Maille extra virgin olive oil
4 150g thick cod fillets
4 medium sweet potatoes, scrubbed and cut into wedges
For the salsa:
1 medium ripe mango, finely chopped
100g fresh pineapple, chopped
1 small red onion, finely chopped
¼ cucumber, finely chopped
½-1 green chilli, deseeded and thinly sliced (to taste)
1 tbsp chopped fresh coriander or mint
Few drops of lime juice, lemon juice or vinegar
1 tsp Maille Dijon Originale
Salt and freshly ground mixed black pepper
Mixed salad leaves, to serve
Method:
1 Preheat the oven to 200°C/fan oven 180°C/Gas Mark 6.
2 Mix together the mustard, lime or lemon zest and juice and 2 tbsp olive oil in an ovenproof dish. Add the cod fillets, season with black pepper and turn over to coat. Cover and leave to marinate for 30 minutes.
3 Meanwhile, toss the sweet potato wedges in the remaining olive oil and arrange in a roasting pan. Roast for 30 minutes, turning over halfway through.
4 While they are cooking, mix together the mango, pineapple, red onion, cucumber, chilli and coriander or mint. Add a few drops of lime juice, lemon juice or vinegar and the mustard, stirring to mix. Season.
5 Place the cod fillets in the oven on the shelf above the sweet potatoes. Roast for a further 15 minutes, until the fish and sweet potatoes are cooked (the fish should be opaque and should flake easily).
6 Serve the cod with the sweet potato wedges and salsa, accompanied by a few mixed salad leaves.
Cook's tip: Another time, use salmon fillets instead of cod.