Think Inside The Box
If you want to focus more efficiently and effectively – then I invite you to think inside the box.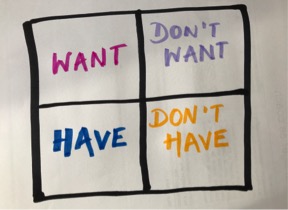 'Think outside the box'; 'blue-sky thinking'; or most recently overheard and current least favourite 'let's popcorn some ideas'. I'm decidedly allergic to these phrases – seeing them as clichéd nonsense. However, when I jump on my judgemental high horse (as I just did) I have learnt to ask myself what that says about me. 
Having got off my high horse, my reflection is this: expanding my thinking, generating ideas, coming up with a mass of options and interconnected ideas – this is not my personal challenge. My challenge is to filter my thoughts and options in such a way that I am able to move forward with more focus, certainty and energy. 
How to focus more efficiently and effectively 
If you want to focus more efficiently and effectively – then I invite you to think inside the box. If you identify with this challenge then one of the simplest and most helpful coaching tools I have found is this 4-box model: 
Consider your challenge, opportunity or question and ask yourself the following: 
What do I currently have?

What don't I have?

What do I want?

What don't I want?
Answer the questions and populate the relevant box.  Review and consider what fresh thinking and ways forward have emerged. In light of this, what do you choose to do now?
Without fail I find this brings more clarity, more focus and often an unexpected, yet grounded way forward. 
Examples of how to use this model:
It's an incredibly simple and versatile tool, and it has brought me, my clients and colleagues new wisdom in the following ways:
To analyse a business opportunity thoroughly – this allowed me to think it through with more clarity, rather than only think about the shiny new bits
Using it with coaching clients to look at career options. It encourages them to acknowledge all that they already have, but also to specifically pinpoint what they don't want and therefore have a clearer view of what they want to actively pursue
A colleague needed a tool to facilitate a team discussion on gaining team focus – I suggested this and she reported that it made for an energising, useful and productive session
Thinking through what I ideally want my blend of family and work life to look like – this really helped me to get specific about what that means to me
This tool gets you to think about your challenges and opportunities in light of what you already want and have, which in the pursuit of new or different is all too easy to ignore. Considering what you don't have and don't want also brings fresh thinking. 
The beauty of the 4-box model is its simplicity, which is equal to the clarity of the outcome it delivers. 
It may seem absurdly simple but I find much of the most effective coaching is. You have all the answers, this coaching tool is just one of many ways to facilitate you finding them. If you prefer to do your thinking with a supportive, challenging listener then do get in touch.
I invite you to have a go and think inside the box. I'd love to hear how you get on.
Sorrel Roberts
Coach & Facilitator
Providing the space for you to find your own clarity. I am a Mother, Stepmother, Coach and Facilitator - sharing observations and thoughts on perspective, coaching skills and objectivity - often sharing that which I most need to learn. I am an ICF & academically accredited coach, passionate about harnessing the benefits of coaching to assist individuals and organisations in realising their potential. My work focuses on three key areas: coaching for professional development, coaching skills development and supporting working parents. I coach people across a wide range of industries, I'm a tutor on the Barefoot/University of Chester Postgrad Certificate for Personal & Business Coaching Course and deliver 'Coaching Skills for Family Life' and 'Coaching Skills for Managers' workshops.