Beetroot salad with grilled goat's cheese
For a nourishing lunch, this vibrant salad from Donna Hay is full of energising ingredients to help you avoid an afternoon lull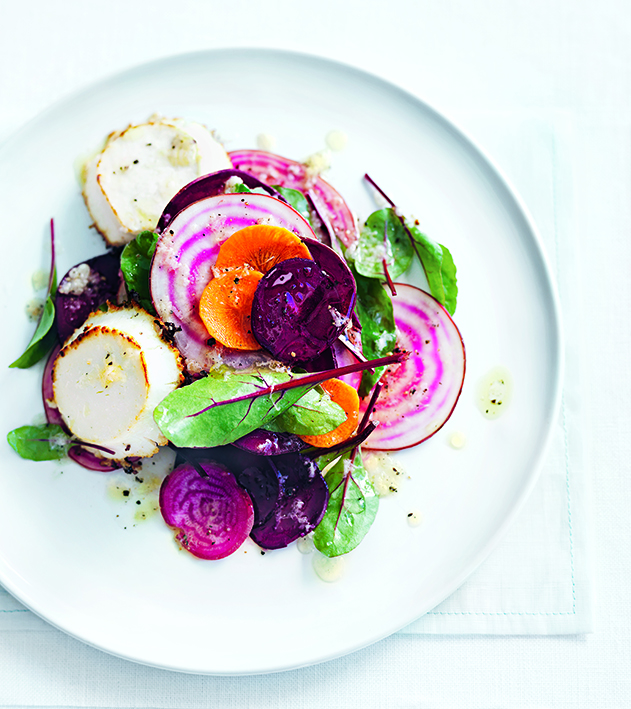 SERVES 4
Ingredients:
4 large beetroots, peeled and trimmed
1 carrot, peeled and trimmed
100g baby or small beetroot leaves
300g firm goat's cheese, cut into 8 rounds
Vegetable oil, for brushing
For the horseradish dressing:
2 tablespoons white wine vinegar
1 tablespoon olive oil
1 teaspoon freshly grated horseradish
Sea salt and cracked black pepper
Method:
1. To make the horseradish dressing, place the white wine vinegar, olive oil, horseradish, salt and pepper in a bowl and whisk to combine. Set aside.
2. Thinly slice the beetroot and carrot, and place in a bowl with the beetroot leaves. Add the dressing and toss gently to coat. Divide the salad between serving plates.
3. Brush the goat's cheese with a little oil and place on a baking tray lined with non-stick baking paper. Cook under a preheated hot grill for 8-10 minutes or until golden. Serve the goat's cheese with the salad.
Fresh And Light by Donna Hay is published by Hardie Grant, and costs £18.99
Photograph: William Meppem