Bass fillet with tomatoes and olives
Try this delicious summer salad from Italian food writer and photographer Valeria Necchio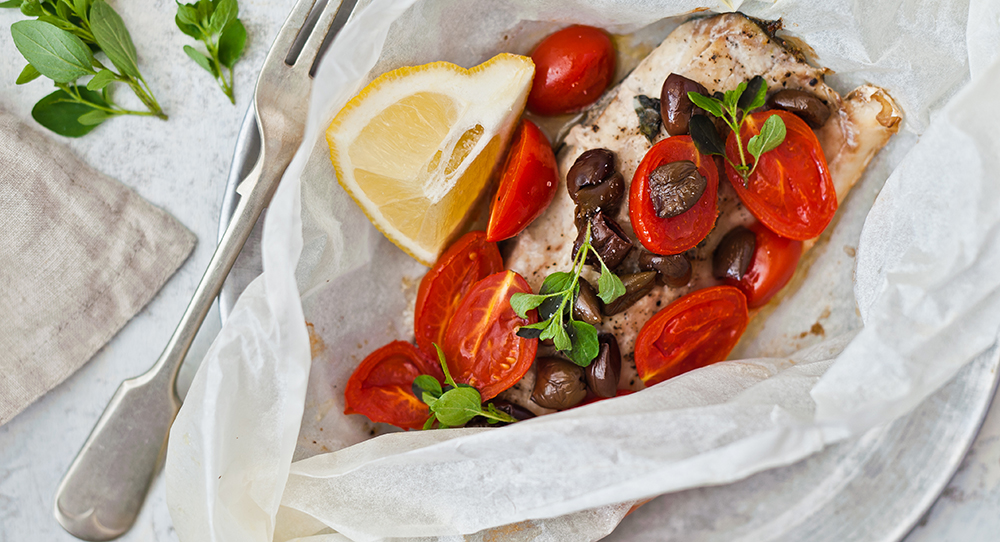 Baked fish with tomatoes and olives is an Italian favourite. The parchment cooking technique of this recipe, known in Italian as al cartoccio, encourages the bass to take on the character of the super sweet Datterini tomatoes and the mild and fruity Taggiasche olives – a delicious flavour twist.
Preparation time: 5 minutes
Cooking time: 15 minutes
Serves 4
4 bass fillets (about 150 g each)
250g Datterini tomatoes, quartered (or other variety)
2 tablespoons Taggiasche olives (or other black olives)
4 tablespoons extra virgin olive oil
1 unwaxed lemon
Fine grain sea salt
Freshly ground black pepper
4 sprigs fresh oregano (or marjoram)
1. Preheat the oven to 220°C/425°F/gas mark 7. In a bowl, toss the tomatoes with oil and season with a generous pinch of salt and freshly ground pepper. Set aside.
2. Cut four large squares of parchment paper. Place the fillets on top, skin side down. Distribute the cut tomatoes and scatter half a tablespoon of olives over each fillet. Place a sprig of oregano on top and finish with some grated lemon zest. Fold the pieces of parchment to form four closed pockets (al cartoccio), tucking the edges underneath so seal them.
3. Bake for 10-13 minutes, until the fish is cooked through but still supple. Open the pockets to release the steam, and serve immediately with lemon slices.
Recipe developed by Valeria Necchio for Kuoni. See more Italian tomato recipes at kuoni.co.uk/italy/food-and-wine/tomato-recipe-ideas