Avocado baked eggs with spiced hazelnuts
Treat yourself to a delicious and filling breakfast or brunch with this recipe using Borderfields rapeseed oil – ideal for a lazy weekend brunch or refuelling post-workout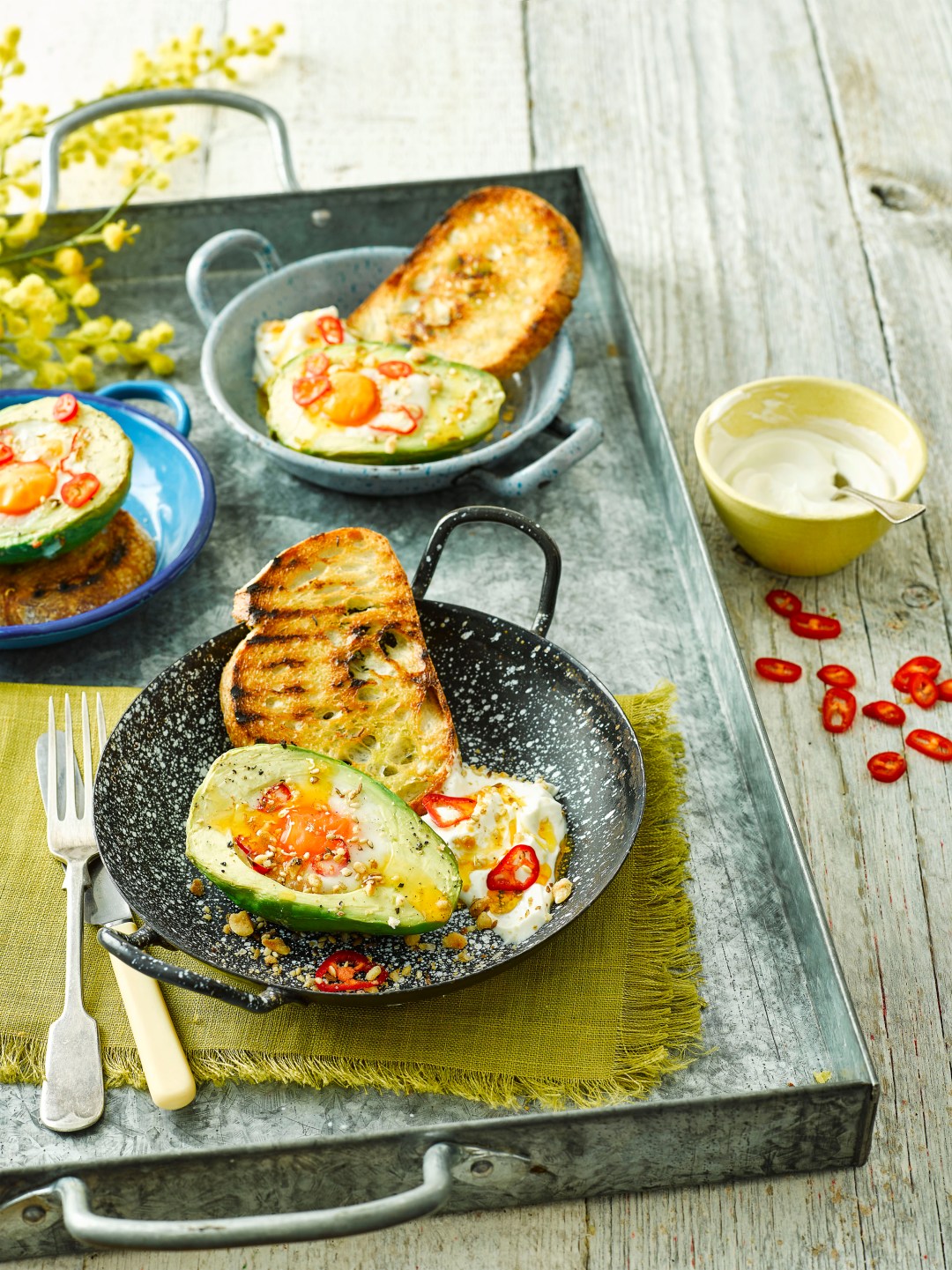 Cold pressed rapeseed oil contains half the saturated fat of olive oil, and is a great source of essential fatty acids, omega 3, 6 and 9. Borderfields was launched in 2005 by a group of farmers who wanted to create a healthy and delicious cold pressed rapeseed oil sourced solely from British fields.
Use Borderfields rapeseed oil for this delicious brunch/lunch dish.
Serves 4
For the baked eggs
Borderfields Chilli Infused Cold Pressed Rapeseed Oil
2 ripe avocados
4 small free-range eggs
2 red chillies
100g Greek yogurt
1 wedge of lemon
½ clove garlic minced
For the spiced hazelnuts
30g blanched hazelnuts
1 tbsp coriander seeds
1 tbsp cumin seeds
2 tbsp sesame seeds
Salt and pepper
Toast for serving
1. Preheat the oven to 180°C. Place the hazelnuts on a metal tray, and roast in the oven for 5-6 minutes or until fragrant and lightly golden brown. Meanwhile, add the coriander, cumin and sesame seeds to a small frying pan over a medium heat, and toast until fragrant and the seeds begin to pop.
2. Cut the avocados in half, and remove the stone. Using a spoon, scoop a little of the flesh out to make the cavity left by the stone a little bigger.
3. Remove the seeds from the chilli and finely chop. Season the avocados with salt and pepper to taste, and sprinkle in a little of the chopped chilli. Place the avocado halves in an oiled ovenproof dish.
4. Crack an egg into each avocado and place in the oven for 12-15 minutes or until the white is set and the yolk is cooked to your preference.
5. Meanwhile, add the toasted seeds and hazelnuts to a pestle and mortar, season with salt and pound to a crumb-like consistency.
6. Mix the yogurt with garlic, a squeeze of lemon, and season with salt and pepper to taste.
7. Serve the baked avocadoes with a dollop of yogurt, sprinkle over the roasted hazelnut and seeds mixture, and drizzle with plenty of Borderfields Chilli Infusion. Serve with toasted bread on the side.
For more information, visit borderfields.co.uk. Borderfields is available at Sainsbury's, Morrisons, Asda, Tesco and Booths plus Amazon. RRP ranges from £1.99 for 250ml to £4.50 for 500ml.