9 ways to be a better public speaker
Psychologies' editor-in-chief Suzy Walker signs up for coaching to learn how to be a better public speaker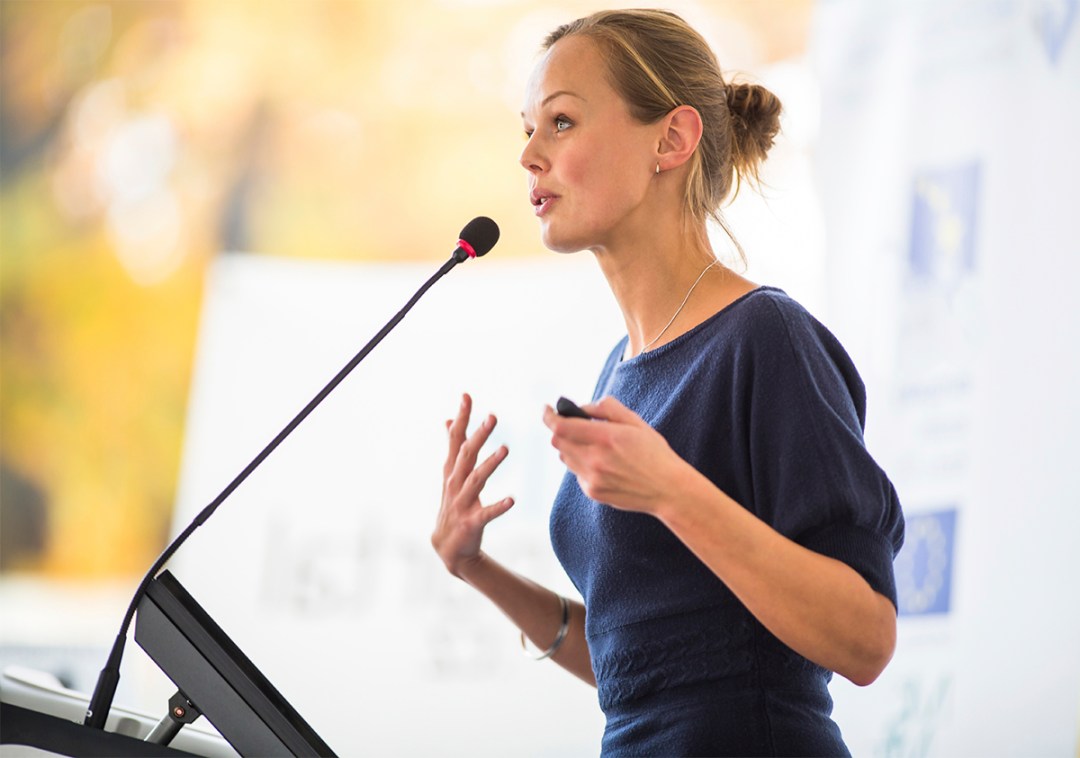 5 minute read
I read recently that people placed death third in a list of their biggest fears. The first two were: walking into a room full of strangers and speaking in public. Great! With a spate of public speaking engagements ahead of me, I was certainly feeling the fear so I decided to sign up with ex-BBC presenter and performance coach Helen Foster, to see if she could help me.
Here are her top tips to making a maximum impact at the front of the room:
1. Think about timing
Keep the presentation to about 20 minutes. TED Talk experts say 17–18 minutes. Why? Because the presentation becomes more focused and tighter. You only keep in what is important and you only deliver what is relevant to your audience. Give them too much and they'll lose interest and won't remember what you've said.
2. Show, not tell
If your presentation does run longer, you need to build in breaks with visuals, props, role play, etc. Visualisation is a very powerful tool for keeping audiences engaged and helping them remember what they've heard.
3. Tell a story
Share a personal story in order to grab attention. In journalism terms, it's called "the human interest" story. It doesn't have to be personal, but it does need to be a story which is unusual and attention-grabbing. You want people to sit up and take notice, and keep listening to the end.
4. Get the audience involved
Sometimes, an interactive workshop is a good way to wake up your audience. Ask them questions, or get them to discuss a point with the person sitting next to them. For example, if your talk was on happiness, you could ask them: when was the last time you felt really happy and why? Five minutes is long enough for this, otherwise there's a risk of losing control.
5. What's your message?
What do you want your audience to take away with them and remember? What is the most effective way to get this message across? Could it be through the personal story, or another example? A picture or sound or another kind of prop? People mostly remember what you say last, so make sure you end with a strong message.
6. Let your passion shine through
Let your passion and enthusiasm for your subject shine through your presentation. This will will engage your audience and keep them listening. If you're not interested or passionate about a subject, why would your audience be? Find a way to make yourself interested and motivated in your subject – if you can't, find another subject.
7. Be authentic
Being genuine never fails. Be yourself. If you don't know an answer – say so. Better that than give out duff information. And you can always offer to help find the answer. Audiences can see through 'fake'. So keep it real, which is why personal stories work so well.
8. Write it down…
… in a format that is comfortable to you. This could be on prompt cards, on A4 paper. Whatever the format, you need to be able to read it clearly.
9. Practise, practise, practise!
For some strange reason, people are reluctant to practise their public speeches. However, if they really, really practise and learn their presentation by heart, so that nothing will faze them when they come to deliver it, they will always give a better presentation than someone who hasn't practised it at all.
For more information on Helen Foster, visit helenfostercoaching.co.uk
Photograph: iStock