48 hours: Renewed and rejuvenated at The Spa at Pennyhill Park
Sweat last year out of your pores with the new thermal cabins at The Spa at Pennyhill Park, Surrey.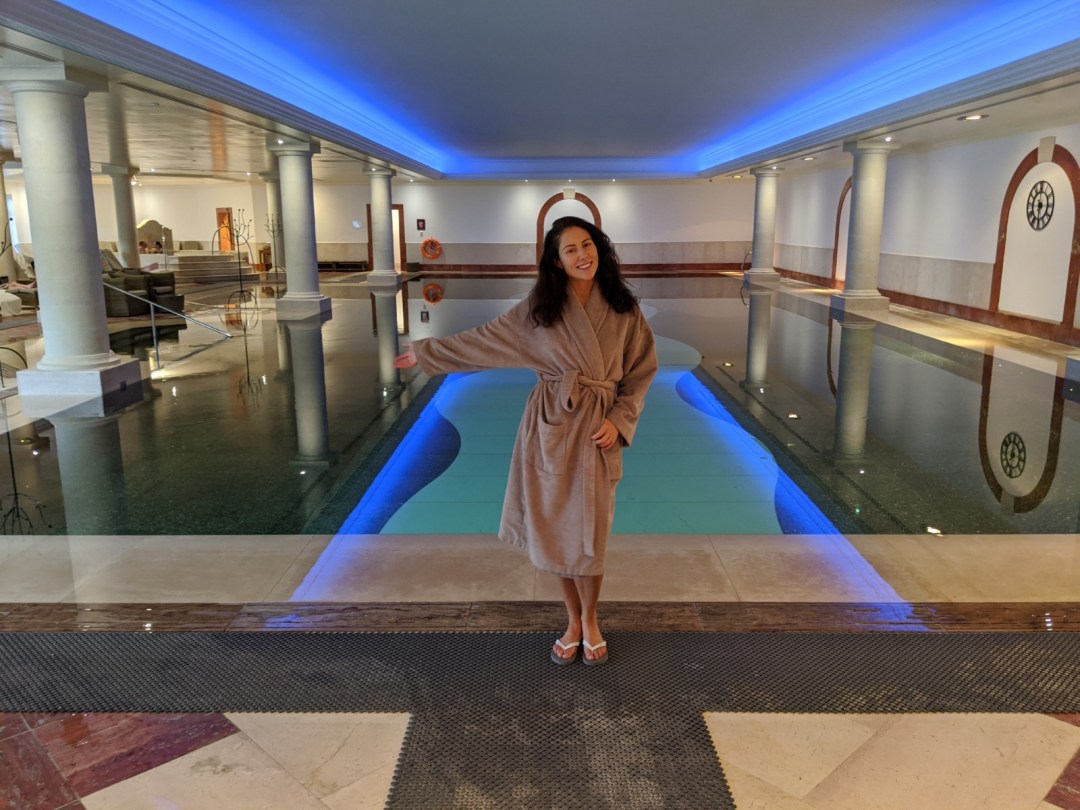 Just over an hour's drive from the hustle and bustle of London's streets, I pull into the long driveway up to Pennyhill Park in Surrey. We cruise past the England Rugby Team's training grounds, who I'm told regularly rejeuvinate their tired bodies in Pennyhill's Spa, and a sense of excitment washes over me; if the powers of this spa work for national rugby players, I'm hopeful of it's soothing and rejeuvuinating powers on my own overs-stressed and overworked body, and mind come to think of it.
Last year was a tough one for me, writing a book alongside a full time career saw me working into the early hours of the morning, not to mention every weekend for month's on end, and it's taken it's toll on most parts of me, from my frazzled brain to my frown lines to my tight shoulders. One lesson I've learnt is, if you don't take care of yourself, no one else will. And so this New Year will be one of new boundaries, of self-love, of putting me first. People pleasing is a thing of the past, and so here I am, checking into the beautiful Pennyhill Park for a day and night of nurturing – it's my big show – my firework display to myself – setting a new baseline of self-care and proving to myself how committed I am to putting myself first this year.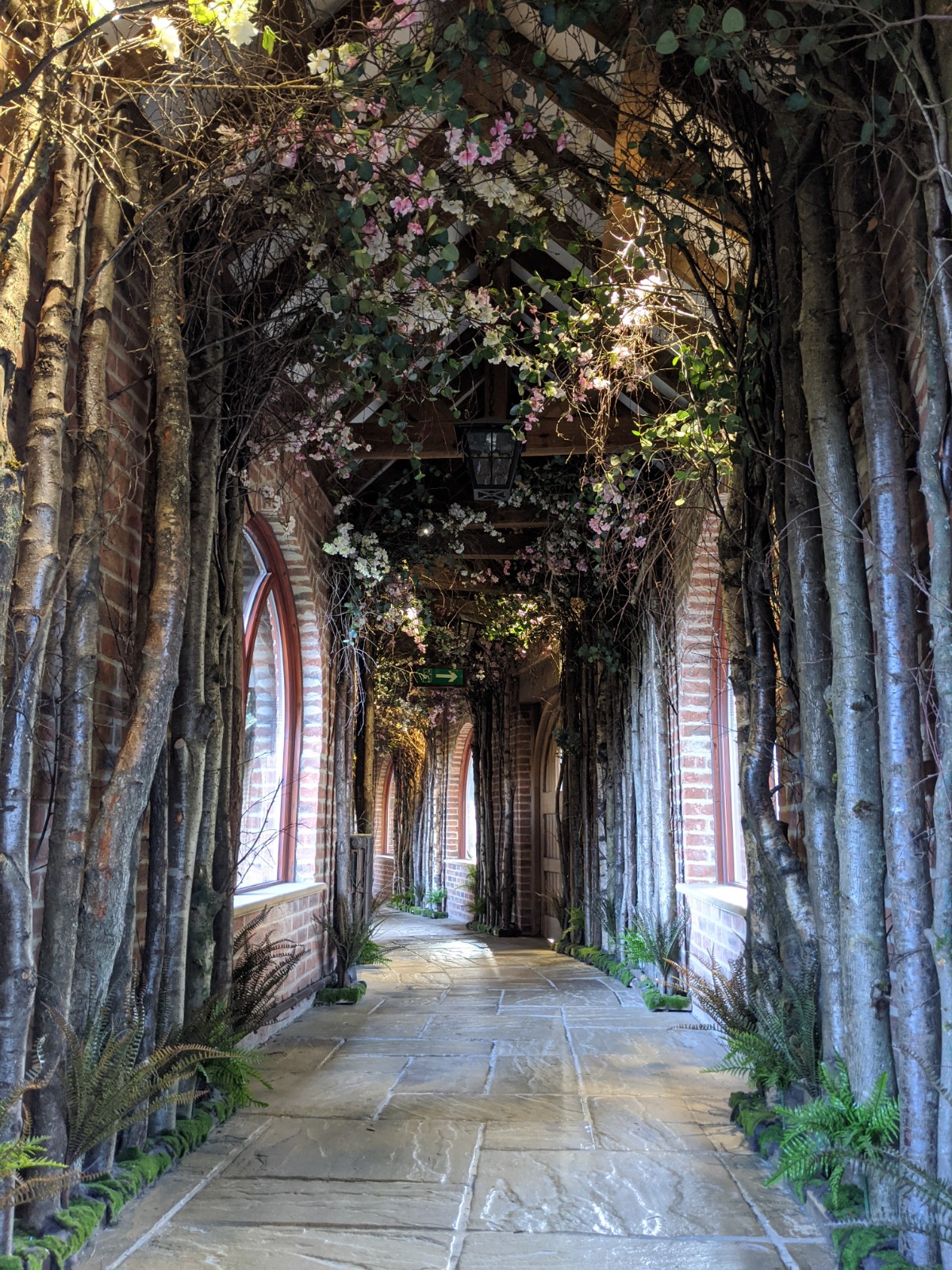 As I walk into my cosy room I do a little dance, the bed is huge and not only that, there is a bath (my favourite hobby), with a T.V. Yes, you read that right – a television. To watch. In the bath. I didn't even know such a thing existed but as I unpack, I make my first vow to myself – I'm getting one for my bathroom at home. But as much as I'd love to jump in the bath and watch T.V. all afternoon, a much bigger bath is calling for me – the spa here is famous and I'm itching to explore it.
For me, there's nothing better than melting into the jacuzzi with aching muscles after a workout – so I throw on my workout clothes and head to the gym. It's better equipped than my one at home, and I feel like a kid in a sweetstore trying all the fancy gear they have. In fact, I'm having so much fun that I forget what the hour is and realise it's time for my massage. A quick shower later and fluffy robe wrapped around my tired body, I pad into the spa treatment area. My therapist Hayley comes to collect me, sweeping me up into her soothing demeanor and leads me to the treatment room. Now, I don't know about you but there's something sad about carving out the time and money to arrange a beautiful massage for yourself, that you can't enjoy becuase you're so uncomfortable – either feeling cold or worse, face smushed into a hard massage bed. My mind's so busy already that I hook my stress onto the discomfort and find it impossible to quiet my mind. Thankfully, I melted into a state of bliss within seconds in the perfectly warmed, immensely comfy treatment room. I felt safe, warm and able to let go, something so rare in my life right now. Pennyhill sure do know what they are doing, and my 'Destress' massage did exactly what it said on the tin, setting me up perfectly for my spa adventure that was to come.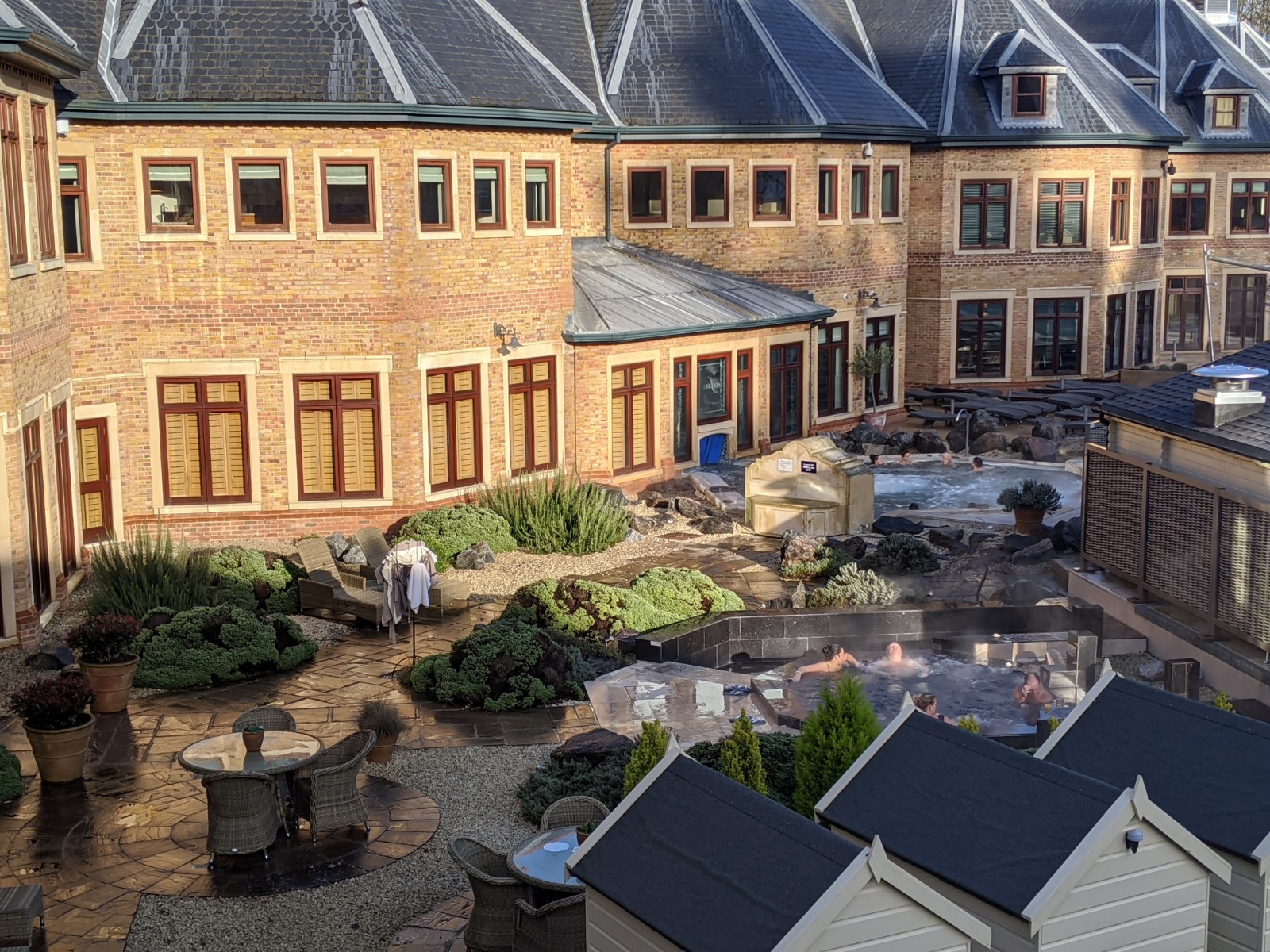 5.30pm and with muscles soothed and skin soaking in 'The Spa Body Oil' used by Hayley, I get a quick tour of the spa – complete with a spa guide which provides four 'Spa Journeys', with advice on the way to use the facilities for different purposes, from 'Invigorate and Recover', to 'Retox and Unwind' and even a pregnancy journey. Each journey includes a route through the spa, a treatment suggestion and even a smoothie to aid your experience. With my personal New Year theme in mind, I choose 'Invigorate and recover' to stimulate my body and mind. It suggests a workout, followed by a swim in the peaceful ballroom pool or steaming outdoor pool, then a drench bucket shower, followed by 10 minutes in the Schnapps steamroom to increase circulation and boost the immune system, then a (very cold but exhilerating!) plunge pool to aid recovery, and finally 15 minutes in the hydrotherapy pool, which I swim to from the inside pool until I'm sitting under the stars, steam gently drifting all around me, body dissipating into the bubbling water and mind slowly unknotting.
As I tear myself away from the steaming outside pools, and shower, it's perfect timing to walk the few steps from my room to a delicious and healthy three course dinner, before I saunter off to bed and have one of the best night's sleep I've had since before I wrote my book.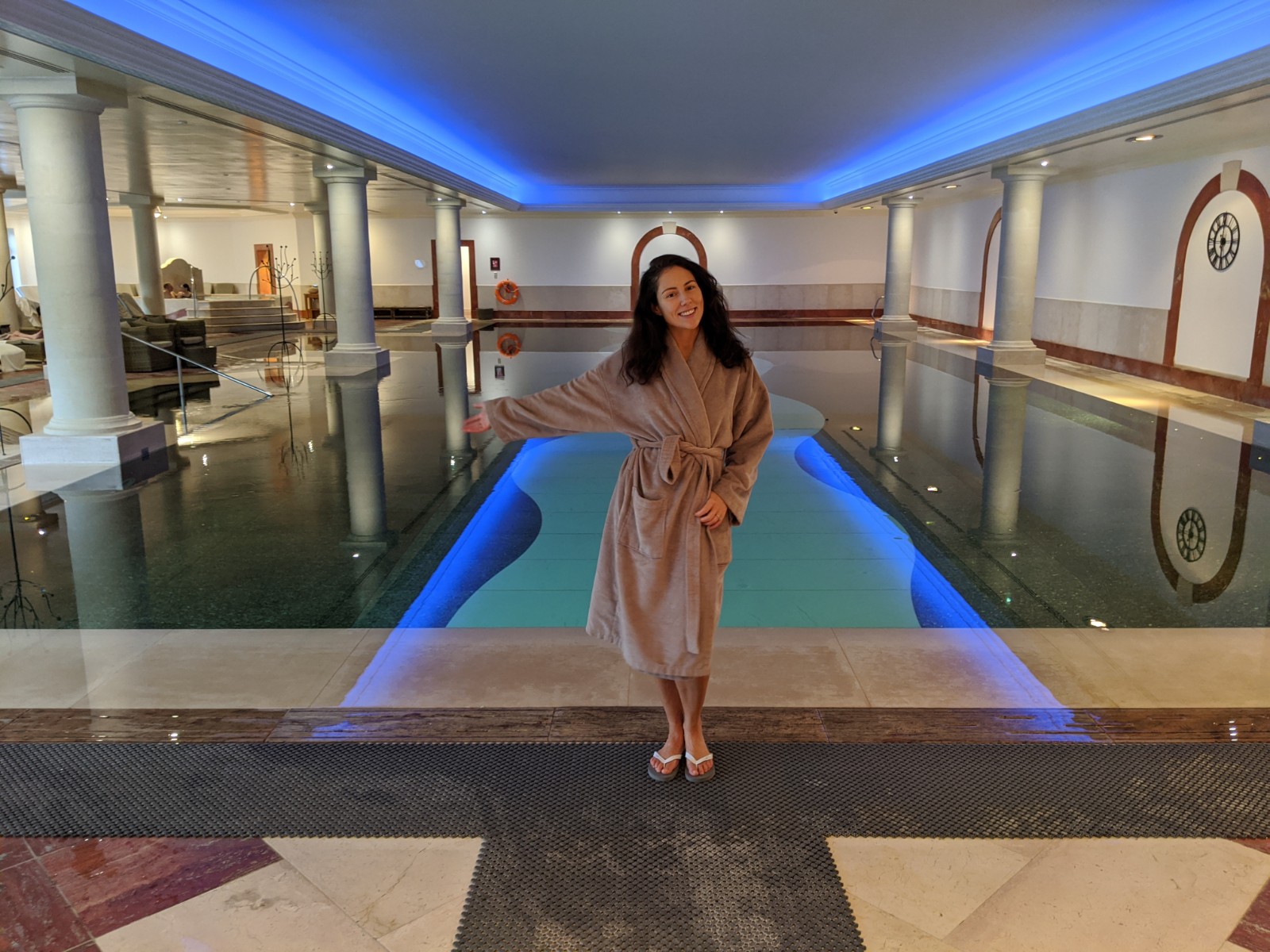 The next day I walk off the delicious buffet breakfast (the veggie sausages are to die for – cooked fresh on request) with the short guided nature walk around the grounds before spa-ahhh-ing over again, perfectly finished off with a nap on one of the heated spa beds.
As I drive back down the winding driveway, my arrival feels like years ago, and I consider that the gentle heating, steaming and bubbling of body and mind over the past 24 hours washed away more than ust the gogeous body oil applied during my massage – I let go of a weight on my shoulders that had become too enourmous to carry, and left instead with a much lighter sense of self-care that I hope to hold onto until my next visit to the magical Spa at Pennyhill.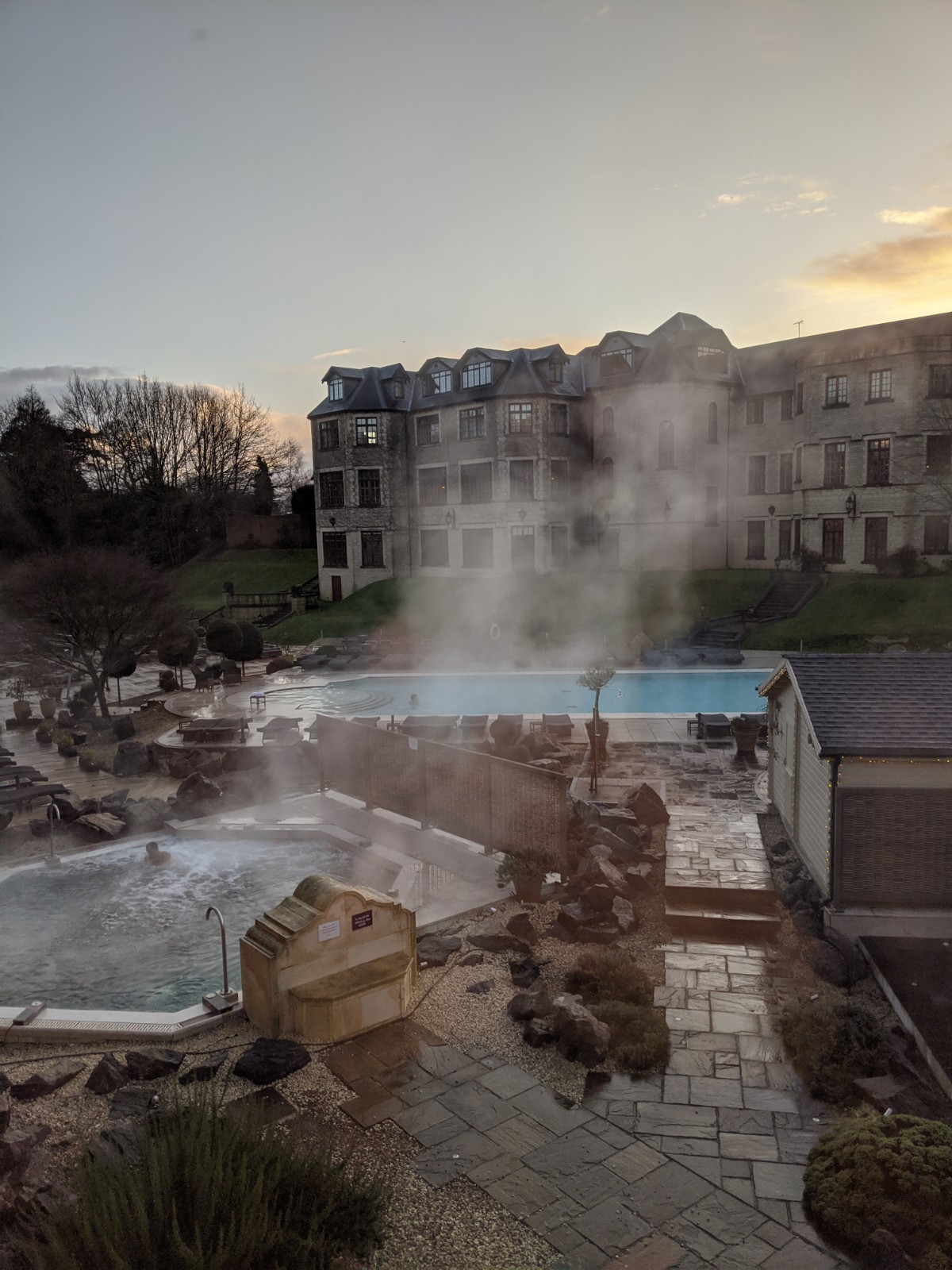 Visit The Spa at Pennyhill
Spa: Sunset Spa Evening – Full use of The Spa facilities from 3.30pm – 9.30pm, Iced white peony tea on arrival, 30 minute treatment, Choice of a Herb Falafel or Roast Vegetable Wrap, followed by granola and yoghurt dessert. All served with infused water. Available on Thursdays only. £100 per person
Stay: 1 night Bed and Breakfast in January from £444 based on two people sharing in a cosy room, including Spa facilities.
Book here: www.exclusive.co.uk/pennyhill-park or call 01276 478300