48 hour adventure in… Bouliac, Bordeaux
Katherine Weir overcomes her fear of cooking and trying new foods, as well as developing a new-found love for red wine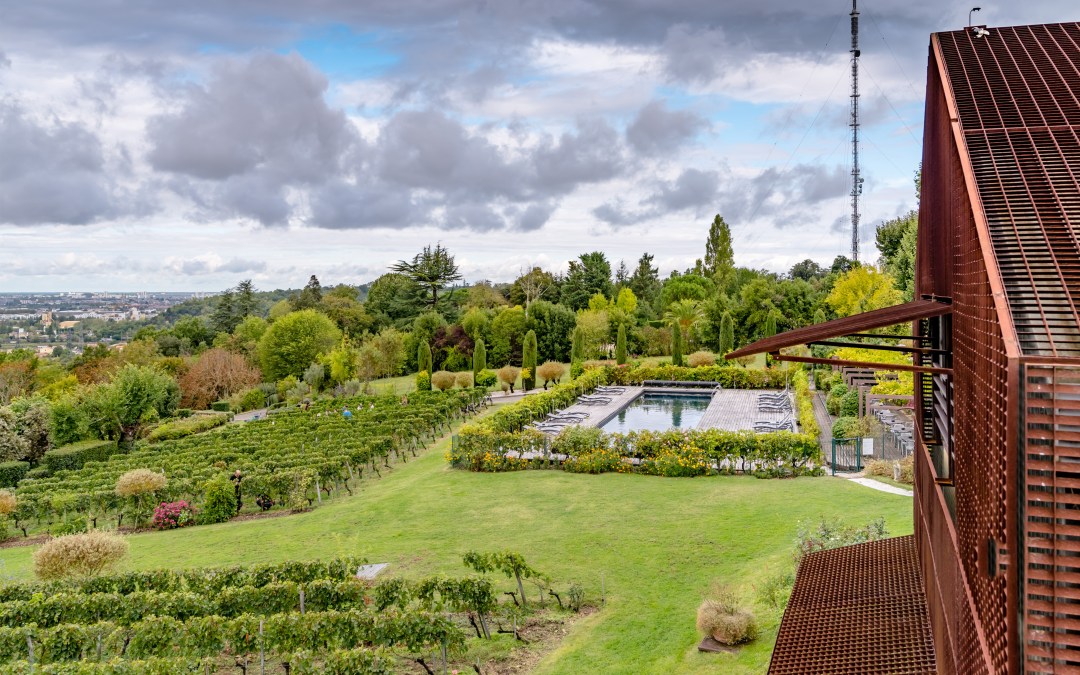 I've been a vegetarian since the age of two and have always stuck to the same few dishes that I like. I'm not much of a wine buff either. (I'm more of a whisky drinker.) This year, I decided I wanted to step out of my comfort zone and have a culinary adventure and headed to the cookery school at Le Saint James – a converted eighteenth-century farmhouse by architect Jean Nouvel, transformed into a hotel and restaurant in the village of Bouliac, near the beautiful southwestern city of Bordeaux.
As a vegetarian who isn't the biggest fan of cheese, I was brave and visited Le Café de l'Espérance, a French bistro opposite Le Saint James, which allowed me to sample lots of different cheeses in a buffet style affair – as well as sample the dessert the region is famous for: canelés. This dainty French pastry has a strong rum flavouring and a spongey custard centre.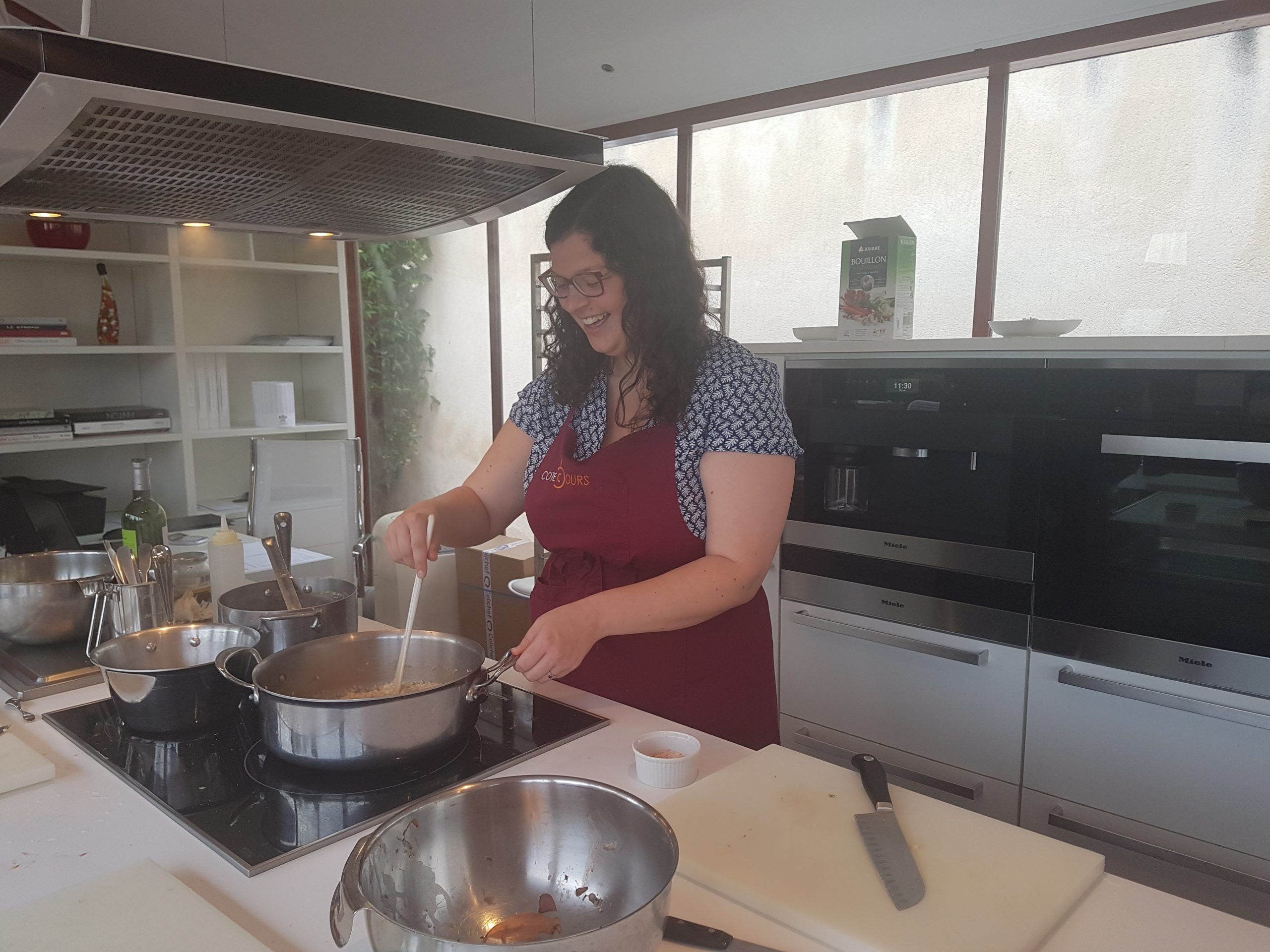 Next stop the interactive museum La Cité du Vin – designed to look like a glass of red wine being swilled – known as the 'Disneyland of Wine'. The audio tour had spinning globes showing the regions of wine around the world and talks from wine producers, a hologram dinner table with a sommelier talking about the wine of Bordeaux, and even a hidden red room dedicated to 'pleasure and wine' (the audio included sex noises). As a wine novice, it was as entertaining as it was educational!
Overcoming food fear
My first evening I enjoyed dinner in the gourmet restaurant of Michelin-starred chef Nicolas Magie at Le Saint James. I was given a five-course vegetarian menu that was bursting with flavour and each course was paired with a wine chosen by the restaurant's sommelier. My favourite dish was the divine dessert of Clery strawberries with fennel, basil and a fine sheet of green aniseed.
To eat whatever was put in front of me at a Michelin-starred restaurant was a BIG step. I had grown up with a food fear of anything out of the ordinary, sticking instead to the same few dishes I was comfortable with. But this was a brilliant way to step out of my comfort zone in style.
Next day, was my cookery lesson in Côté Cours. Nicolas Magie's sous chef, Celia Girard, guided us through making a starter and main for our lunch; a Greek artichoke salad with homemade pitta bread, and a Mediterranean risotto with a parmesan emulsion.
I have a new respect for artichokes. It takes so much effort to get to the heart, but the taste is worth every cut of the knife. Making the bread was so much fun (albeit very sticky). Celia's lesson increased my non-existent culinary confidence, and opened my eyes to vegetables such as cucumber flowers and capers.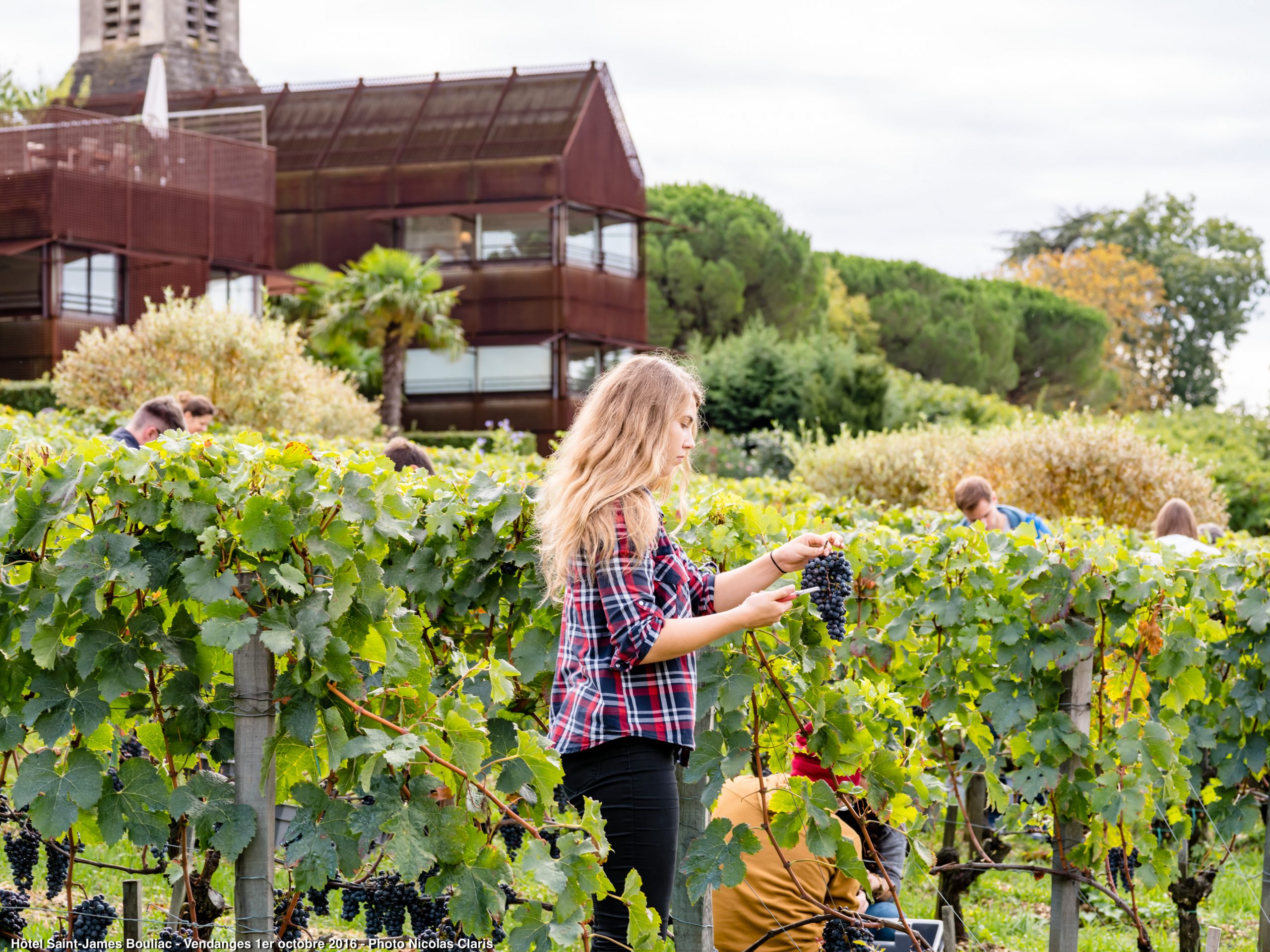 In the afternoon, we had more wine tasting at the Château La Dominique, in the winery's gothic looking cellar. After we were given a selection of red wines, testing our sense of taste by guessing the ingredients, I can now say I'm a fan. The view from the panoramic terrace was a must-see too, along with the architectural touch of red glass pebbles (symbolic grapes) that covered the floor.
My trip to Bouliac taught me that being a competent cook is not some unreachable goal, that I can learn a new skill that will not only help to increase my love of food but also give me the joy that comes from others enjoying your creations.
Website is: saintjames-bouliac.com
Price per night from: 165 Euros per night
Cookery lessons start from: 45 Euros per person
Need to know
Vin du Jardin – Le Saint James has 950 vines. In good years, this vineyard can produce 600 bottles of merlot, and hotel guests are invited to take part in the annual harvest each October.
Marché de Producteurs – A market hosted by the hotel celebrates the local producers used by the restaurant, and Bouliac residents and tourists can purchase fresh, seasonal produce.
Eurostar – a faster route is now available from London to Bordeaux, cutting existing travel time by an hour.